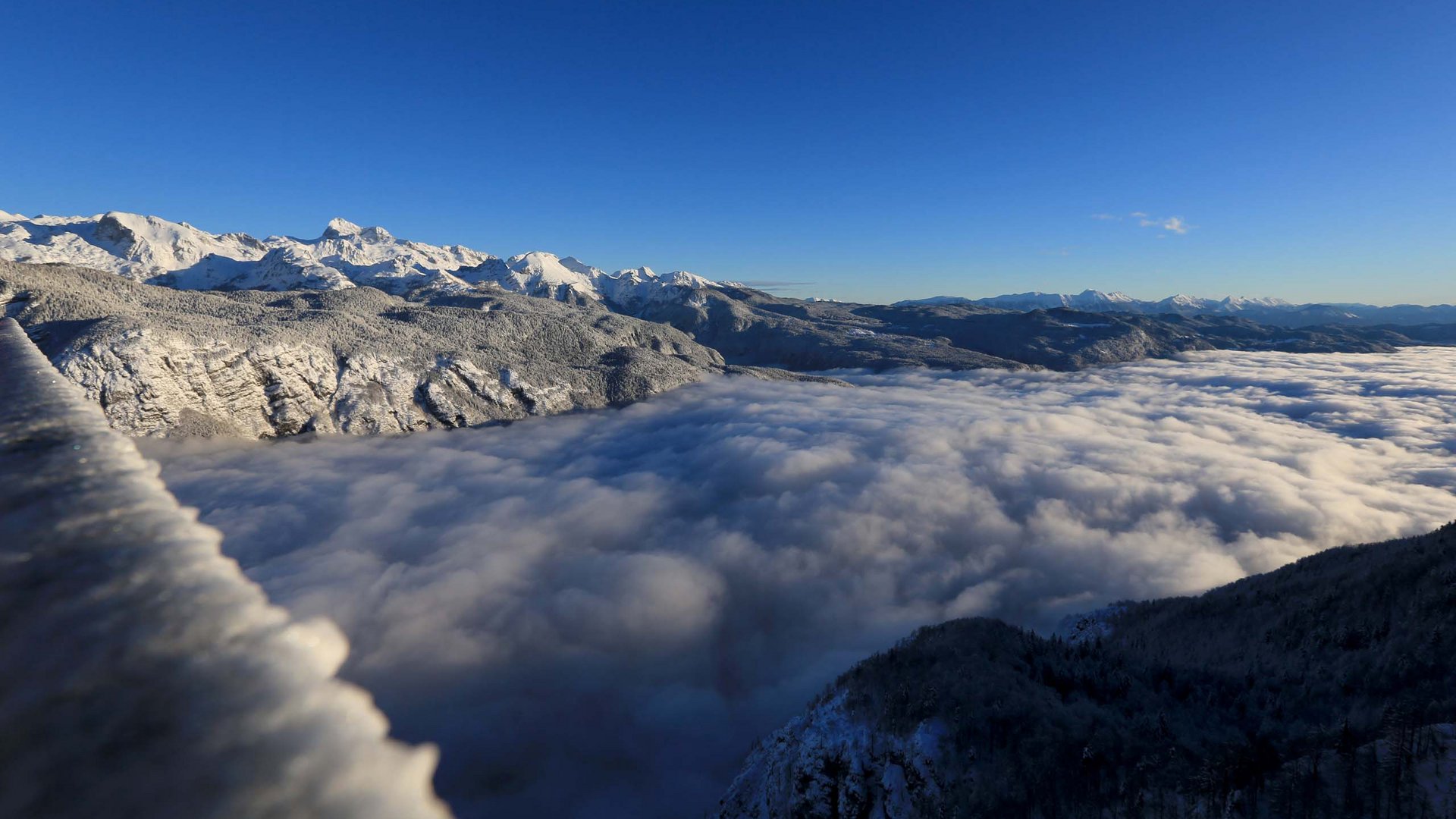 Bohinj – the kingdom of the legendary Goldhorn
Slovenia
With a golden glow, the rock formations of the Triglav mountains reach towards the sunlight and are reflected in the aquamarine water of Lake Bohinj. You stand silent and awed in the face of this colour-rich natural scenery. Delighted by the knowledge that you also belong to this natural treasure trove.
Worthwhile.
A holiday in Bohinj.
"Bohinj is too beautiful for murder," enthused Agatha Christie, the best-selling novelist of all time. And quite rightly: Bohinj, the heavenly valley amidst the Julian Alps, is a real treasure trove full of natural wonders. Right at the heart: emerald-green Lake Bohinj, in whose crystal-clear water the beauty of this unique terrain is reflected. Charming pastures, dense forests, mighty peaks, peaceful lakes, and rustic villages characterise Triglav National Park. Here, in one of the oldest national parks in Europe, past, present, and future melt together into one vision. A vision that puts preserving nature in all its glory in the spotlight. A vision that accompanies you at every turn during your experiences. And experiences galore await you in Bohinj, the kingdom of the Goldhorn, which shows you the way to a wonder-worthy natural treasure. A treasure that is immeasurable, but not inexhaustible. That's why the local people protect and preserve it with various environmental programmes and an eco-mobility concept. Find inner riches. Discover Bohinj.
Carefree.
Your journey to Bohinj.
The journey itself is the reward, because it leads you into the heart of a natural treasure trove. Scintillating lakes, awe-worthy mountains, and peace-rich villages line your route to Bohinj, the kingdom of the Goldhorn and eco-friendly tourism.
The two destinations Nomenj and Bohinjska Bistrica are on the rail network. Trains on the Jesenice – Nova Gorica line regularly stop at these stations. You can reach Bohinj by train with just one change from all parts of Slovenia and the surrounding countries. A car-transporter train also runs on the Bohinjska Bistrica – Podbrdo – Most na Soči (– Nova Gorica) line every day, which lets you travel in an eco-friendly, stress-free way.
From the train station, you can reach your holiday destination by taxi or regular public or organised bus services.
Bohinj is well connected to all major cities in Slovenia by public bus services. In summer, additional bus services run in the local area and to Pokljuka plateau. In winter, there is also a ski bus.
The nearest Flixbus stops are located in Bled and Ljubljana. From there, you can reach your destination by bus or train.
We only recommend travelling by plane for long distances. A transfer can be organised from Ljubljana international airport upon request.
Worth knowing.
A holiday without your car in Bohinj.
Treat yourself and your car to a break and explore the abundance of natural treasures around Bohinj in an eco-mobile way. You'll have plenty of chances to do so.
Regular bus services bring you from Ljubljana to Bohinj via Bled. Trains from Ljubljana via Jesenice or from Nova Gorica stop at Bohinjska Bistrica or Nomenj train stations. A taxi is available for private pick-up services.
The comfortable ski bus brings you to the nearby Vogel and Soriška planina ski areas as well as to the Pokljuka biathlon and cross-country skiing centre – free of charge with the Julian Alps Card: Bohinj.
Comfortable trekking bikes and e-bikes are available at several rental stations (including helmet and lock).
Explore idyllic Lake Bohinj during a guided panoramic boat ride with skipper.
The Julian Alps Card: Bohinj (in summer) or the Winter Julian Alps Card: Bohinj (in winter) treats you to numerous free holiday services.
Take the free summer bus and embark on a discovery tour. Pokljuka plateau is an excellent starting point for hikes.
The region offers several charging options for electric cars.
Do you want to explore the lake in an eco-mobile way? Then rent a paddle boat, stand-up paddle board, kayak, or canoe.
Information
You can find further information about your holiday without your car here: www.bohinj.si/en/mobility/
Worth booking. Accommodation in Bohinj.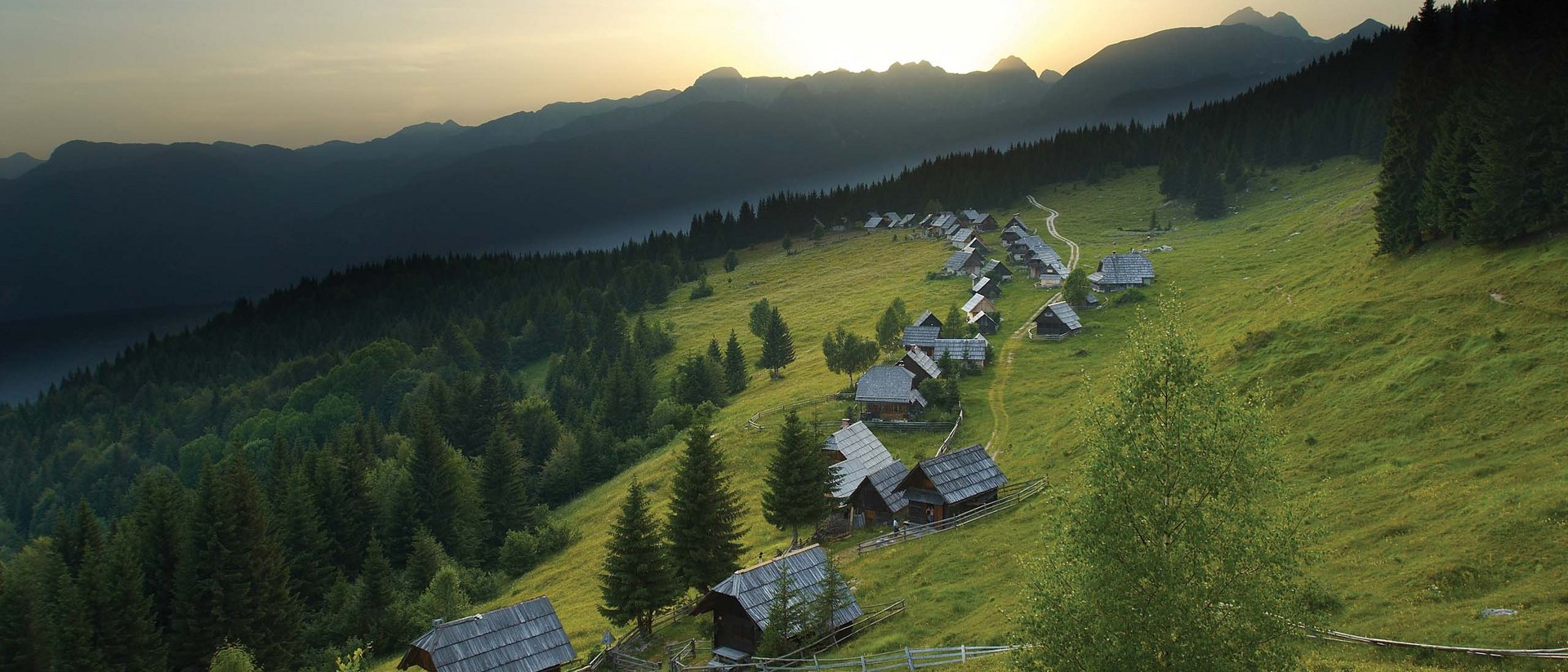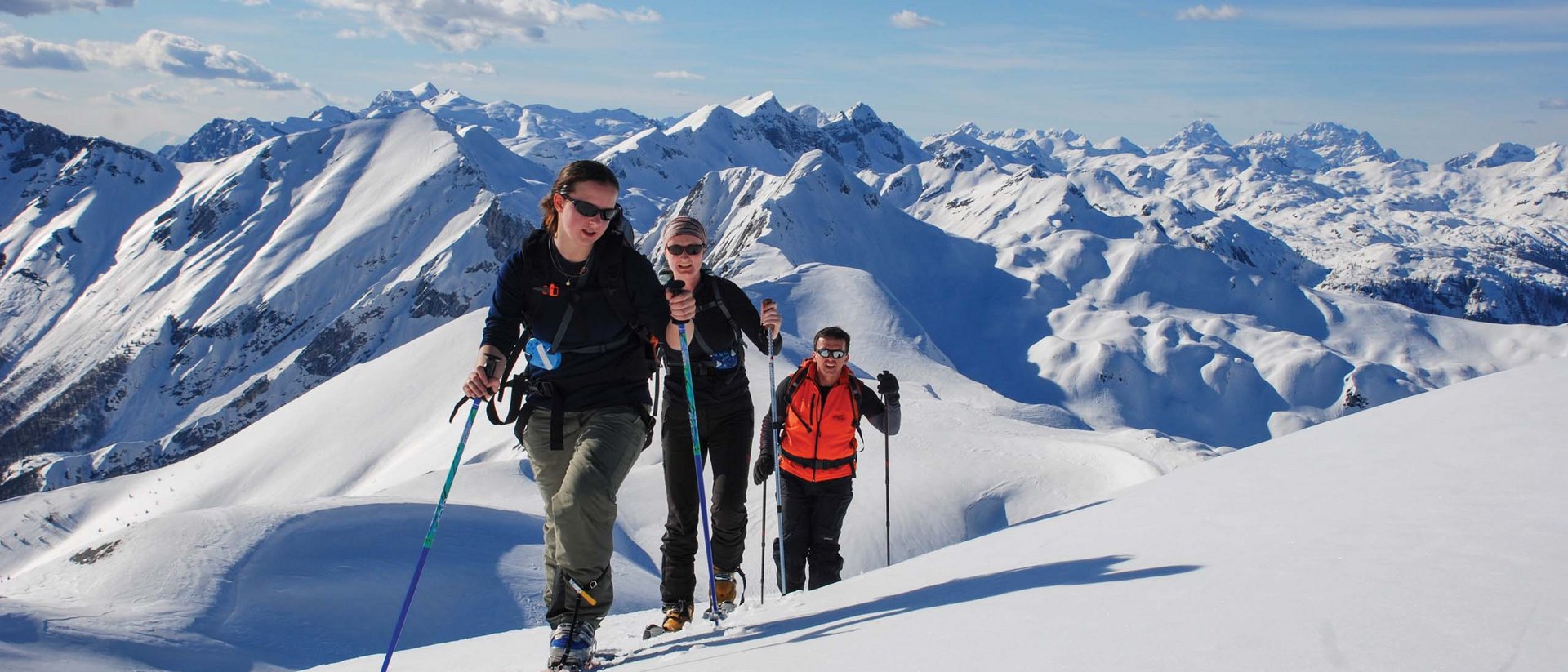 Worth experiencing. Bohinj's treasures.
Crystal-clear Lake Bohinj, towering rocky giants, and tranquil forests – in Bohinj, you'll encounter nature at its most beautiful, pristine, and unspoilt. It embraces you with its boundless energy, swaddles you in peace, and leaves footprints in your heart. Because the memories of a holiday in Bohinj will stay with you forever.
Dive into the clear water of Lake Bohinj. A sense of peace fills you. The 10,000-year-old glacial lake is a popular bathing lake surrounded by secluded pebbly bays and tempts you to enjoy a rich variety of aquatic adventures. Glide slowly over the water in a canoe, languidly cast out your line while fishing, or cruise unhurriedly towards the end of the lake in an electric boat on a panoramic tour. From there, a 1.5-hour walk leads you to one of Slovenia's loveliest waterfalls: Savica waterfall. More than 500 steps take you to this natural wonder hidden amidst the steep rock faces of Mt Komarča. Even more exciting experiences await you while rafting, kayaking, or canyoning.
You're greeted with a welcoming "Bohdej!". The hut landlady shows you to your table and recommends the dish of the day, prepared with fresh regional ingredients. You're captivated by the panorama. The lush-green meadow with its delicate flowers and pillow-soft grass. The emerald-green lake in the valley and the mountain peaks in the background that beckon you to enjoy more adventures. Bohinj is a paradise for hikers and mountaineers. More than 300 kilometres of hiking trails lead through the kingdom of the Goldhorn, the home of ibex and edelweiss, and carry you to pastures, mountain huts, Alpine lakes, and up to the heights. Up Mt Triglav, for example, Slovenia's highest mountain. It's three-coned silhouette adorns the country's flag and 50-cent coin. There's an unwritten rule that each Slovene has to have scaled Mt Triglav at least once in their life. Ideally with a mountain guide, as the climb is secured with cables. The ascent up Mt Vogel is more leisurely. Floating over beech forests, a lift ride of just four minutes carries you up to the top, from where you can enjoy one of the most stunning views of the lake.
Varied, exciting, fun – that's a summer holiday in Bohinj in a nutshell. Pedal by pedal, you discover the wealth of natural and cultural treasures of Bohinj while cycling. The network of routes includes level cycle paths as well as challenging mountain bike tours. You'll find the right bike for you at one of the bike rental stations, where e-bikes are also available. Do you want to enjoy a bird's eye view of Bohinj? Then we recommend a tandem paragliding flight. Close enough to touch the sky, you'll enjoy a different perspective of the area, where nature's most beautiful colours melt together to create an artistic masterpiece.
When teeming flurries of snowflakes cover the national park in a thick white blanket, the sheet of ice on the lake grows thicker day by day, and the fresh scent of snow tickles your nose, winter elation fills the air. In Bohinj, you can experience winters like in the good old days. In perfect peace. In the small but superb ski areas, you can merrily weave your way down the wide, almost people-free slopes. On Pokljuka plateau, you'll also find a cross-country skiing and biathlon centre, idyllic winter hiking trails, toboggan runs, and winter rafting. If you're seeking mountain solitude, strap your skins to your skis and scale secluded mountain summits. Options range from easy ski tours up the peaks around Pokljuka and Komna plateau to challenging tours up Mt Rodica.