Ceresole Reale – the kingdom of heaven
ITALY
The sun bathes the awe-worthy mountain peaks reaching into the deep-blue sky in a warm glow. Before you sprawl rolling meadows and crystal-clear mountain lakes amidst an untouched rocky landscape. There's an air of heavenly peace here in Ceresole Reale. Inside and out.
Worthwhile.
Holidays in Ceresole Reale.
When Friedrich Nietzsche visited Ceresole Reale, he wrote of his delight at having the sublime Alps close enough to touch. And he was right: Wherever you look, the awe-worthy mountains are waiting to be admired. They're reflected in Lake Ceresole, which is as much a defining feature of the landscape as the dense forests, Alpine meadows, and the unique high plateau of Colle del Nivolet pass. A hundred paths wind from the 150-soul municipality up into the mountain world of Gran Paradiso, the oldest national park in Italy and the kingdom of the ibex. But the small, tranquil mountain village didn't receive the "Reale" (meaning "royal") suffix from the King of Alps, but from an actual king: King Vittorio Emanuele II. He granted the village this title in 1862 after the municipality gave him the right to hunt chamois and ibex. Ceresole Reale is one of two places in Italy that has permission to use "Reale" in their name. And it's well deserved. Because the unspoilt natural landscape, an eco-mobility concept, and countless leisure activities transform this little municipality into a kingdom of rich opportunities. Find a natural paradise. Discover Ceresole Reale.
Carefree.
Your journey to Ceresole Reale.
The landscape rolls by. Your thoughts are free to roam on your holiday without your car in Italy. Enjoy a relaxing, eco-mobile journey to the kingdom of Ceresole Reale.
The nearest Flixbus stop is located in Turin. From there, you can take the train to Rivarolo Canavese and then continue with bus line 5137 to Ceresole Reale.
We only recommend travelling by plane for long distances. From Turin's Caselle airport, you can travel by bus into Turin, continue by train to Rivarolo Canavese, and then take the bus to Ceresole Reale.
Worth knowing.
A holiday without your car in Ceresole Reale.
Ceresole Reale is located at the heart of divine Gran Paradiso National Park, a place with great environmental value that's worth preserving – which includes adopting an extensive mobility concept.
Private pick-up service from the nearest bus stop by your accommodation provider upon request
In summer, the Nivolet shuttle will take you up to Colle del Nivolet pass, one of Europe's most stunning natural adventure playgrounds.
Road bikes and mountain bikes can easily be transported on the Nivolet shuttle.
Rowing boats, pedal boats, and sailboats available to hire as eco-mobile transport on Lake Ceresole
Car-free paradise for pedestrians and hikers on the 8-kilometre-long circular trail around Lake Ceresole
Public bus from Ceresole Reale to the region's tourist spots
Rental of road bikes, mountain bikes, and e-bikes with all equipment for children and adults directly in the village
Starting points for lovely walks with information boards and displays in Ceresole, at Lake Serrù, and on Nivolet pass
Rental of sports equipment for the whole family, including cross-country skiing and snowshoeing kit
If you have any questions or would like to receive information about the transport schedule, please contact our mobility advisor on +39 0124 953186 or at info@

no-spam.

turismoceresolereale.

no-spam.

it.
Worth booking: accommodation in Ceresole Reale.
Rustic, cosy, unique – that's the best way to describe the accommodation in Ceresole Reale. Tread new paths, spend your holiday in Ceresole Reale, and experience eco-friendly tourism in the Alps.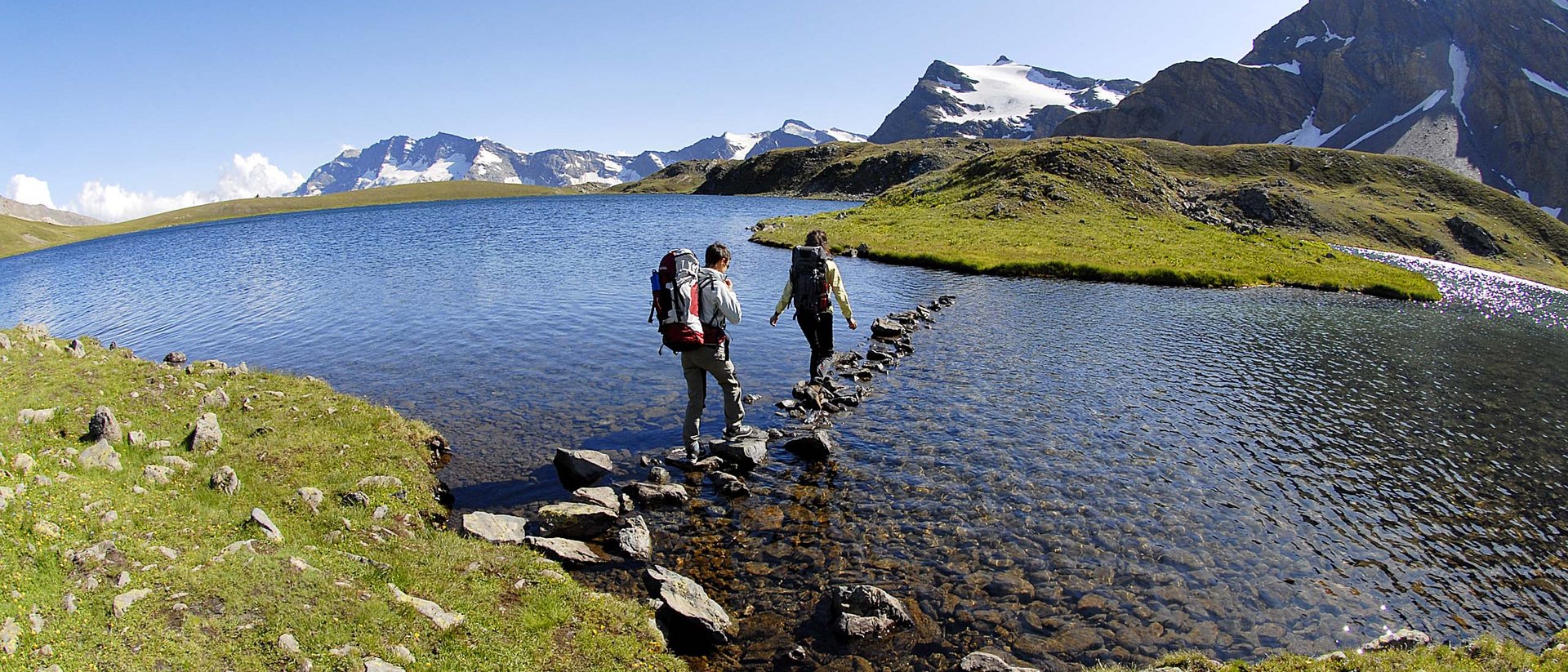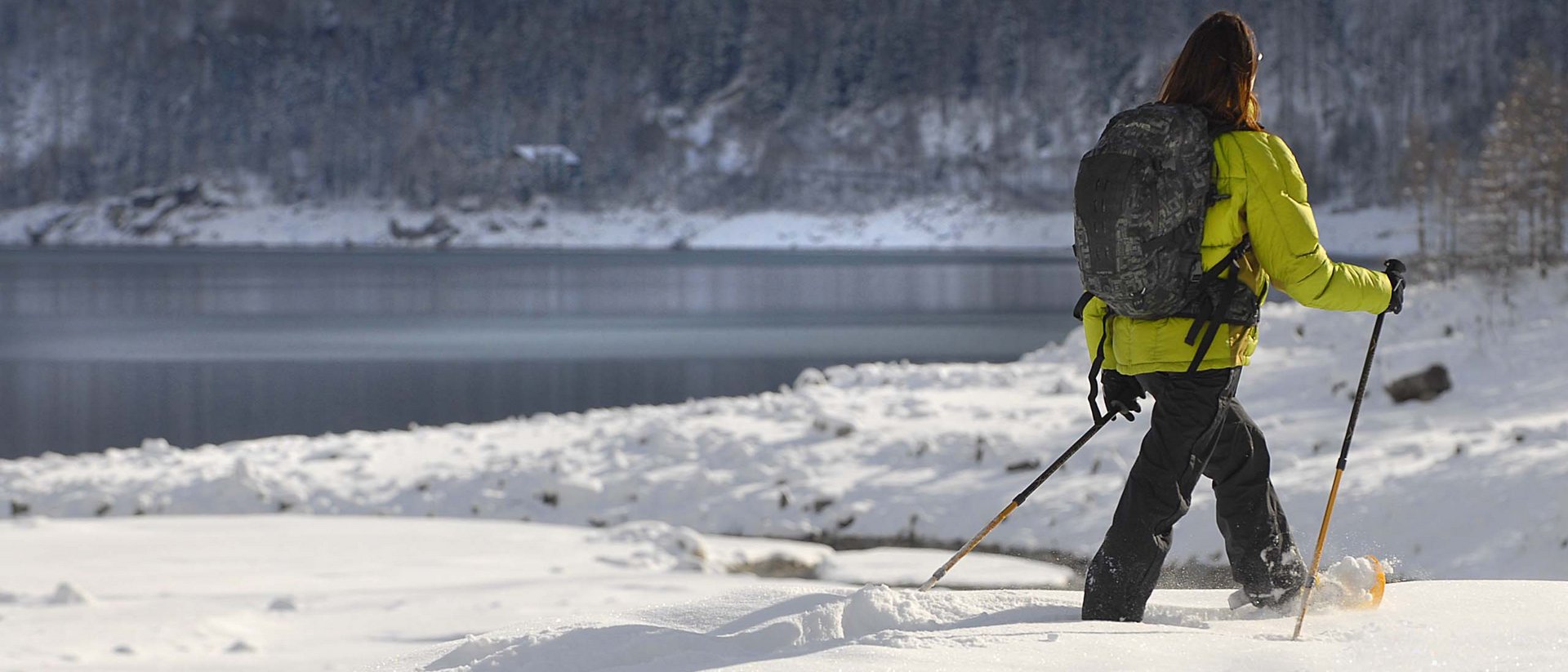 Worth experiencing. The mountain world around Ceresole Reale.
Sky-high joy – that's what you'll feel when you spend your holiday in Ceresole Reale. The little, royal village is known for its rich range of options. Immerse yourself in the kingdom of the ibex and discover the countless natural treasures of Gran Paradiso.
The royal title isn't all King Vittorio Emanuele II is responsible for. The regal visitor also left behind some 300 kilometres of hunting trails that will lead you into the wilderness of Gran Paradiso National Park. The Nivolet shuttle will carry you directly up to Colle del Nivolet pass, one of Europe's most stunning natural adventure playgrounds. Up here on this wonder-rich high plateau, you're close enough to touch the sky. Before you stretch numerous hikes that lead you to idyllic mountain lakes, like Lake Rosset or the Trebecchi lakes, to secluded huts, and to awe-inspiring mountain peaks like Mt Colle Leynir. The views seem endless from up here. Tal Vallone below you, the icy rock face of Mt Punta Leynir before you, the sky above you, and a unique feeling of freedom within you. The walks are more leisurely around Lake Serrù and Lake Ceresole, which are also the starting points for other extraordinary hikes, for example to Lake Dres and its mystical upland moor.
The ibex and chamois aren't the only ones who feel at home on the granite-threaded gneiss rock around Ceresole Reale. Great climbing stories have been written here on the impressive walls of Mt Sergent and Mt Caporal. With its stark rock faces and sky-high mountains, Ceresole Reale invites passionate climbers to negotiate their way upwards in both summer and winter. Ceresole Reale is considered heaven on earth on the pro climber scene. Every two years, the best climbers under the sun enjoy a tête-à-tête at the International Trad Climbing Meeting. Beginners can master the climbing basics on the practice walls of Rock Diga and in Pian della Balma. In winter, the ice park with its 30 frozen waterfalls becomes the heart of the climbing scene. Routes with various difficulty levels ensure that everyone can enjoy their own personal climbing adventure amidst the ice and snow.
No hectic bustle on the slopes – instead, nothing but soul-soothing peace awaits you in winter in Ceresole Reale, where you can still experience winters like they used to be. Wonder-worthy winter hiking trails and a 17-kilometre-long cross-country ski trail wind around the lake. Simply glide along – with the mountains and lake always in sight. You can conveniently rent your cross-country ski equipment when you arrive. Special courses are also offered for children, beginners, and cross-country skiers who want to improve their technique. Numerous snowshoe walks lead you through divinely peaceful winter landscapes, treating you to spectacular views and possibly even to moving encounters with wildlife. Slide softly along on one of the many ski tours. Step by step, make your way upwards towards the sky. Nothing disturbs this winter idyll, where you can surrender yourself heart and soul to the magic of the moment.
Biodiversity in Ceresole Reale.
Worth celebrating.
"Homo et Ibex" is the name of the permanent exhibition in the small, tranquil village of Ceresole Reale, which is dedicated to the relationship between human and ibex. And that's no surprise, as the surrounding Gran Paradiso National Park is where the King of the Alps found refuge when it was threatened with extinction. It's thanks to the hunting passion of Italian King Vittorio Emanuele II that the King of the Alps still roams the mountains today. Over 200 years ago, he granted the last 100 ibex that lived in the Gran Paradiso area protected status. In 1922, the unspoilt area was declared a national park. Lynx, wolves, foxes, deer, ibex, chamois, and marmots have found a home here along with the magnificent bearded vultures and eagles that soar between the mighty peaks.
The specialities of Ceresole Reale.
Worth savouring.
Nature and the human inhabitants are inseparable in Ceresole Reale. This boundless love of the natural world is reflected in the culinary creations. The dishes are simply prepared but rich in flavour. When you visit Ceresole Reale, you simply have to sample the delicious "Polenta concia" enriched with typical toma cheese and butter. Polenta is a popular dish that is often served as a side, for example with venison. Nature plays a leading role in the kitchen. Mushrooms, berries, vegetables, and wild herbs are conjured into tasty creations in the restaurants and huts, which are called "Ciavana" here. Toma cheese is typical of this area. "Faare la tumà", producing toma cheese, has a long tradition. The milk comes from cows that graze on the high pastures, and its flavour is one of a kind. It tastes like mountain summers and the countless Alpine herbs that grow on the pastures. Take a piece of toma cheese – and Ceresole Reale – home with you. Whether it's in the cuisine or culture, tradition is all-important here. The "Reis d'Biru" association's activities ensure that these loveworthy customs are preserved and passed down to future generations.