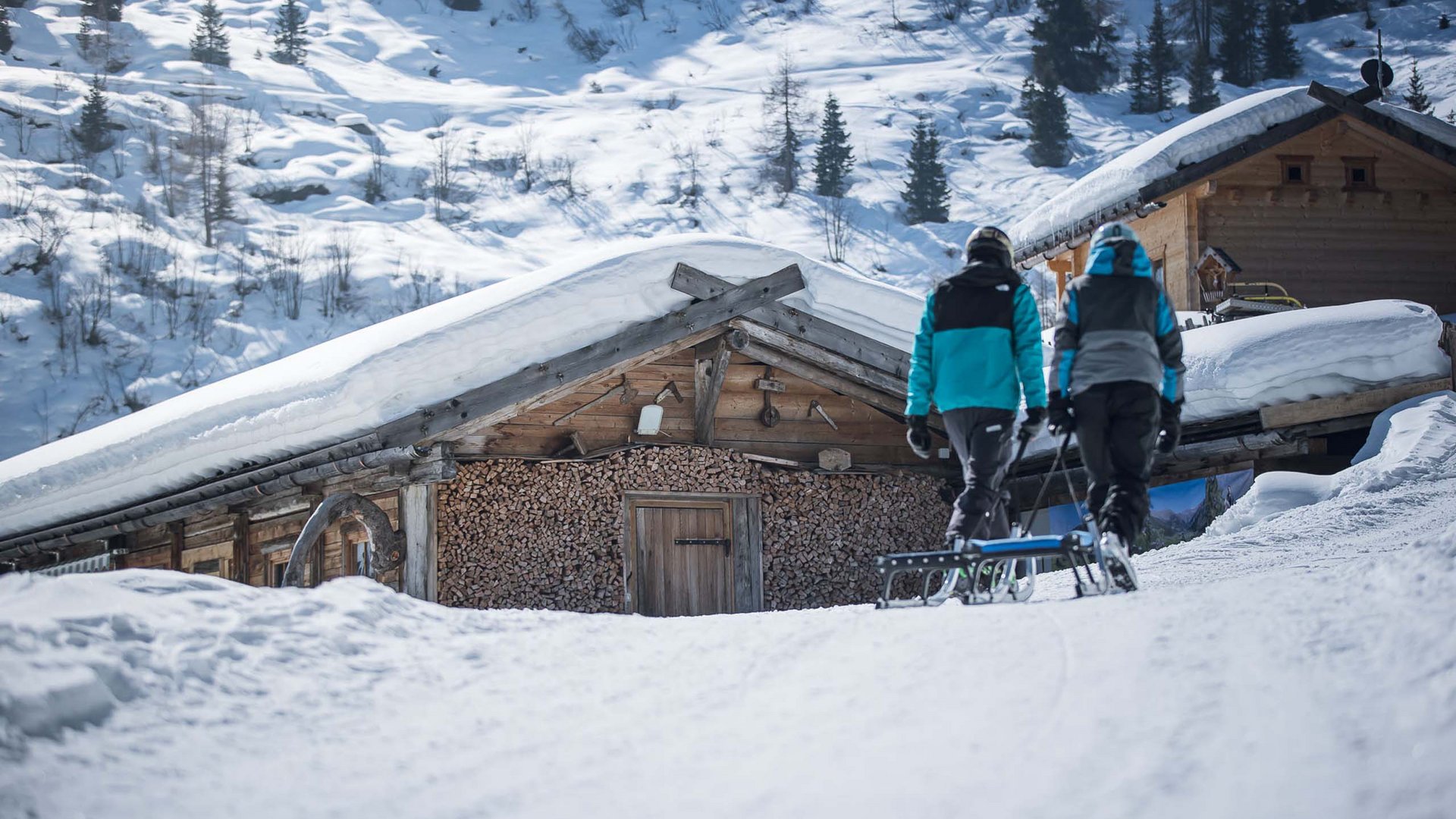 Ratschings – a place of special energy in the Alps
Italy
A fine spray dews on your skin. The wild masses of roaring water thunder their way through the marble. Mind and soul still at the sight of this natural spectacle. A sense of humbleness fills you. Stanghe/Gilfenklamm gorge is just one of many natural treasures in Ratschings, the South Tyrolean municipality that includes the three peaceful valleys Val Racines/Ratschingstal, Val Ridanna/Ridnauntal, and Val Giovo/Jaufental.
Worthwhile.
A holiday in Ratschings.
Dense forests. Vast meadows. And above them the glaciers, gloriously resplendent in the sunlight. The three peaceful valleys Val Ridanna/Ridnaun, Val Racines/Ratschings, and Val Giovo/Jaufental offer you the most stunning spectacles the mountains and water have to offer, beginning with mystically beautiful Stanghe/Gilfenklamm gorge with its towering rock walls. In the depths of this gorge made of pure marble, you'll experience the wild dance of the primordial power of water. With every step you take in the pristine valleys, the power of nature is by your side. Rushing mountain rivers, waterfalls thundering into the depths, still mountain lakes, majestic mountains, and silent forests enchant you. A plethora of paths and trails lead you into the solitary mountain world – and to its most beautiful spots. The unique, sometimes wild, and multi-faceted mountain landscape will captivate you just as much as the little chapels, rustic mountain farms, magnificent Baroque Wolfsthurn castle, and, of course, the impressive mining museum at the back of Val di Ridanna/Ridnauntal. Find your source of energy. Discover Ratschings.
Carefree.
Your journey to Ratschings.
The route to the three peaceful valleys of Ratschings leads you past pretty churches, vast meadows, and charming villages and hamlets. Each more beautiful than the last.
All IC and EC trains stop at Brenner. From there, you can take a regional train or public bus to Sterzing and the holiday valleys of Ratschings. For further information on the bus connections and current timetables, visit www.suedtirolmobil.info/en.
If you travel to South Tyrol on trains run by DB or ÖBB, the South Tyrol connecting ticket lets you use public transport to reach your accommodation on your arrival day or return to the train station on your departure day.
The Südtirol Transfer shared shuttle service brings you from the train station or long-distance bus stop directly to your holiday accommodation and back again. For information and booking, visit www.suedtiroltransfer.com.
Many accommodation providers also offer a transfer from Sterzing train station. Please ask your hosts about this directly.
An individual shuttle service or airport transfer can also be organised via the booking platform www.bookyourshuttle.it.
The Mobilcard lets you use all public transport within South Tyrol, including regional and regional-express trains to Trento as well as the Swiss PostBus between Mals and Müstair, as often as you wish.
We only recommend travelling by plane for long distances. Airport transfers can be organised upon request.
Worth knowing.
A holiday without your car in Ratschings.
What could be better than simply hopping aboard, riding off, and letting your thoughts drift while discovering natural treasures? In Ratschings, you can simply go with the flow thanks to an abundance of mobility options.
With the Südtirol Transfer connecting shuttle service or the public buses, you can easily reach Ratschings from Sterzing. Upon request, your hosts will be happy to arrange a private pick-up service from the train station.
In winter, the mobility card lets you use all public transport around Ratschings free of charge.
Do you want to reach the ski slopes, cross-country ski trails, shopping spots, or elsewhere? The free ski bus carries you to your desired destination in the winter months.
In summer and winter, you can enjoy the mountain panorama from the modern eight-seater lift that transports you up to the mountain station of the Racines-Giovo/Ratschings-Jaufen ski and hiking area at 2,150 metres above sea level.
In summer, the free activeCARD lets you use all public transport around Ratschings free of charge.
Buying the South Tyrol Mobilcard gives you free travel on public transport. The Südtirolmobil app offers you a wealth of practical information about the use of public transport in South Tyrol.
During the summer, you can rent e-bikes and mountain bikes at various rental stations throughout the region.
Ratschings currently has two charging stations with four charging points for electric cars.
Worth booking. Accommodation in Ratschings.
Reconnecting with yourself and nature is so easy at our Alpine Pearls hosts. Find the hotel of your dreams.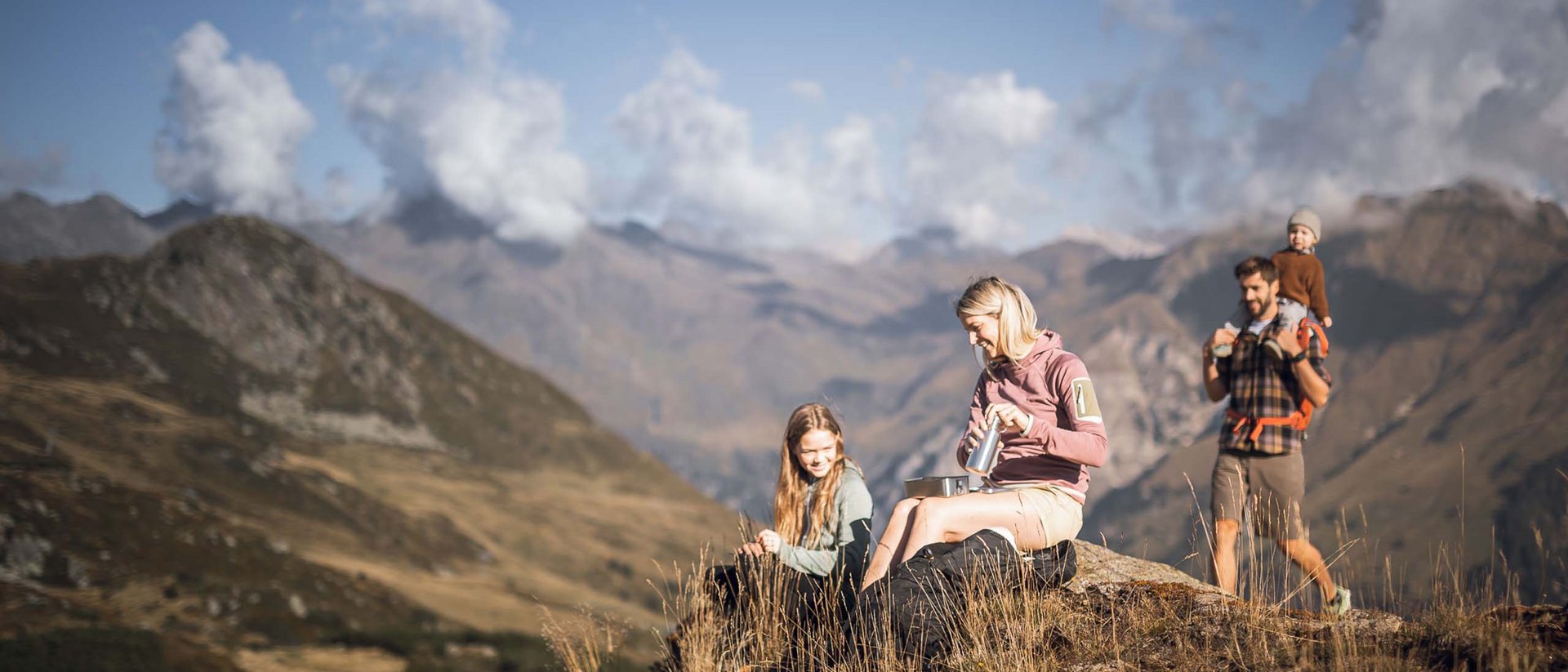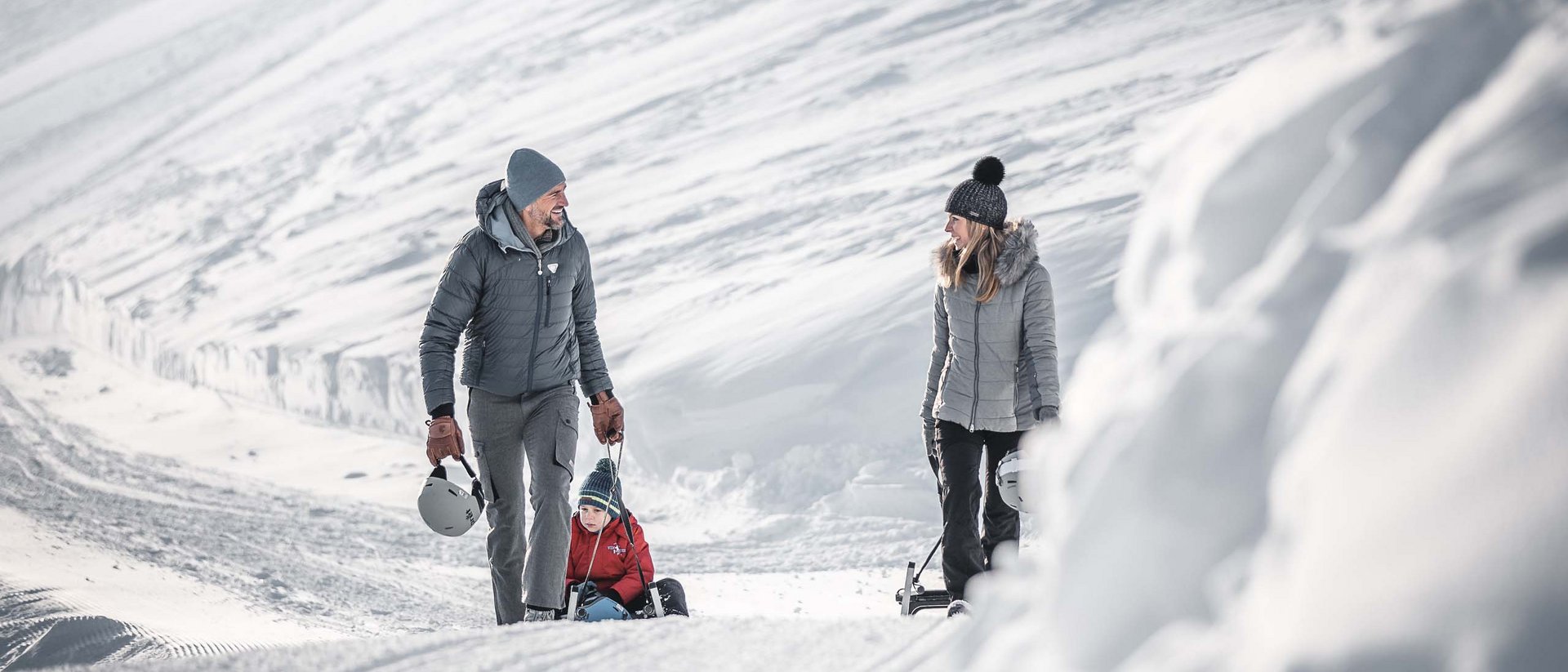 Worth experiencing. Energy hotspots in Ratschings.
The Ratschings locals love being out and about, because there's so much to discover in the peaceful valleys of Val Racines/Ratschings, Val Ridanna/Ridnaun, and Val Giovo/Jaufental. Embark on new adventures and stock up on energy to take back to your everyday life.
Ratschings has a wealth of themed trails and Alpine paths that lead you into the mountain world and to idyllic, secluded spots that will delight adventurers of all ages. Families love to dive into the MountainAdventureWorld near Ratschings mountain station, where the viewpoints, water games, climbing frames, giant slides, and mountain huts let them discover nature in an exciting way. You'll literally feel nature in all its facets on the barefoot trail with Kneipp pool. Leisurely walks also lead you to the traditional water-powered corn mill at Maurerhof farm in Val Giovo/Jaufental, the picturesque miners' chapel, Pfeifer Huisile viewing platform in Flading, or to idyllic energy hotspots like the "Almmahd" meadow near Klammalm hut or Ontrattalm hut. The awe-worthy mountains invite you to enjoy long high mountain tours – for example up to the legendary Rifugio Bicchiere/Becherhaus, the highest mountain refuge in South Tyrol, to the seven lakes, or up to Enzianjoch, from where you can admire Ratschings and the surrounding mountains in all their glory. We'll show you all the best spots as part of the summer programme.
Pink Alpine roses, bright red cranberries, fragrant meadow herbs, and lovingly handmade picket fences line your route. There's an abundance of bike tours in the three valleys of Ratschings – for beginners and pros. They lead you to idyllic pastures with huts like Joggelealm, Kerschbaumeralm, the Telf pastures, Bergalm, or Klammalm, and – if you want to reach higher heights – up to Mt Piatto/Platschjoch. You'll receive more secret tips from the professional bike guides. If you'd prefer to stay down in the valley, you can enjoy a leisurely cycle ride to Sterzing. Just one name, and the eyes of road bikers are sure to light up: Passo Giovo/Jaufenpass. With views of the awe-inspiring mountains, you cycle bend by bend up to this magnificent pass. Professional bike guides accompany you as you explore the mountains. You can get suitable equipment – with and without a battery – at the bike rentals.
You glide upwards in the height of comfort. With every metre of elevation, the panorama grows more impressive. A panorama that you just can't get enough of and that accompanies you the whole ski-day through. Up at 2,150 metres above sea level, a snowy paradise awaits you, because the Racines-Giovo/Ratschings-Jaufen ski area has the best snow guarantee in the Alps thanks to its proximity to the main Alpine ridge. You can look forward to 28 kilometres of perfectly groomed slopes for all ability levels, a Kinderland children's area for the little ones, and a fun park where freestylers can show off their acrobatic skills. You can zig-zag down the slopes with a clear conscience here, as the ski area was awarded four out of five stars as an environmentally friendly ski area. The free ski bus, ski rental, and ski storage at the valley station complete the offering. Do you prefer the solitude of the mountains to fun on the slopes? Then Ratschings is the place for you. Strap the skins to your skis and scale the surrounding peaks in step with nature. An easy or challenging ski tour – you have the choice.
Perfectly marked tracks before you. The finest snow beneath you. Radiant sunshine above you. This cross-country skiing paradise has a name: Ratschings. You'll find cross-country bliss on some 50 kilometres of well-groomed trails at all elevations. Especially popular: idyllic Val Ridanna/Ridnauntal. The 20-kilometre-long trail leads past chapels and churches, rustic farms, and mountain slopes nestled under a deep blanket of snow. At the end of the valley, there's also a modern biathlon centre, where national and international competitions are regularly held. You can rent suitable equipment for cross-country skiing from the rental stations in the towns and villages.
Sit back, lift your feet, hold the straps tight, and whizz down into the valley. Long, short, easy, challenging – in Ratschings and its three peaceful valleys, there are numerous toboggan runs that all have one thing in common: They're perfectly prepared. Just like the leisurely winter hiking trails that take you up to catered huts. Do you want to leave your tracks in the pristine snow on your winter holiday in Ratschings? Immerse yourself in the silence of the mountain world and reconnect with nature? Then strap on your snowshoes and away you plod. You can also discover the heart of this winter wonderland on a horse-drawn sleigh ride. Cocooned in a blanket and snuggled close together, you glide through idyllic Val Ridanna/Ridnauntal, pulled by good-natured Haflinger horses. And that's where you'll find it: the winter of the good old days.
Art and cultural treasures in Ratschings.
Worth seeing.
Thanks to its location and mineral deposits, Ratschings used to be of major importance. Mining made the area famous. Over the course of almost a thousand years – until 1985 – silver, lead, and zinc were mined here at the end of Val Racines/Ridnauntal. Today, the South Tyrol Museum of Mining vividly recounts this long, eventful history that shaped the lives of the people in the valley for centuries. Speaking of people, one woman from Ridnaun gained international fame thanks to her height: Maria Fassnauer, the Ridnaun giant who, at 2.27 metres tall, became a fairground and vaudeville attraction. Something that's well worth seeing is Wolfsthurn castle, a magnificent Baroque castle with 365 windows, 52 doors, 12 fireplaces, and four portals. In addition to the spectacular state rooms, the South Tyrolean Museum of Hunting and Fishing is located here. A real treasure of religious art is hidden in the miners' church of St. Magdalena: a precious winged altarpiece.
The cuisine and products of Ratschings.
Worth savouring.
The 26 mountain huts and restaurants in the three valleys hold many a culinary treasure in store for you. "Knödel" dumplings in every imaginable variation, "Kaiserschmarrn" chopped pancakes, fragrant "Graukäse" cheese, fresh Ridnaun "Kirchtagskrapfen" pastries, and other typical local dishes are served here. The culinary creations are prepared using local and seasonal ingredients like organic vegetables from Waldförsterhof farm and the numerous products made lovingly by hand. You absolutely have to try the goats cheese from Sennerhof farm in Val Giovo/Jaufental. Farmer Ida prepares fresh cheese varieties every day from the fresh goats milk and sells hard cheeses, goat ricotta, Camembert, and soft cheeses in the farm shop. The freshly harvested herbs from the farm garden, peppercorns, or chilli lend the cheese extraordinary flavour. You're sure to love it just as much as the locals!