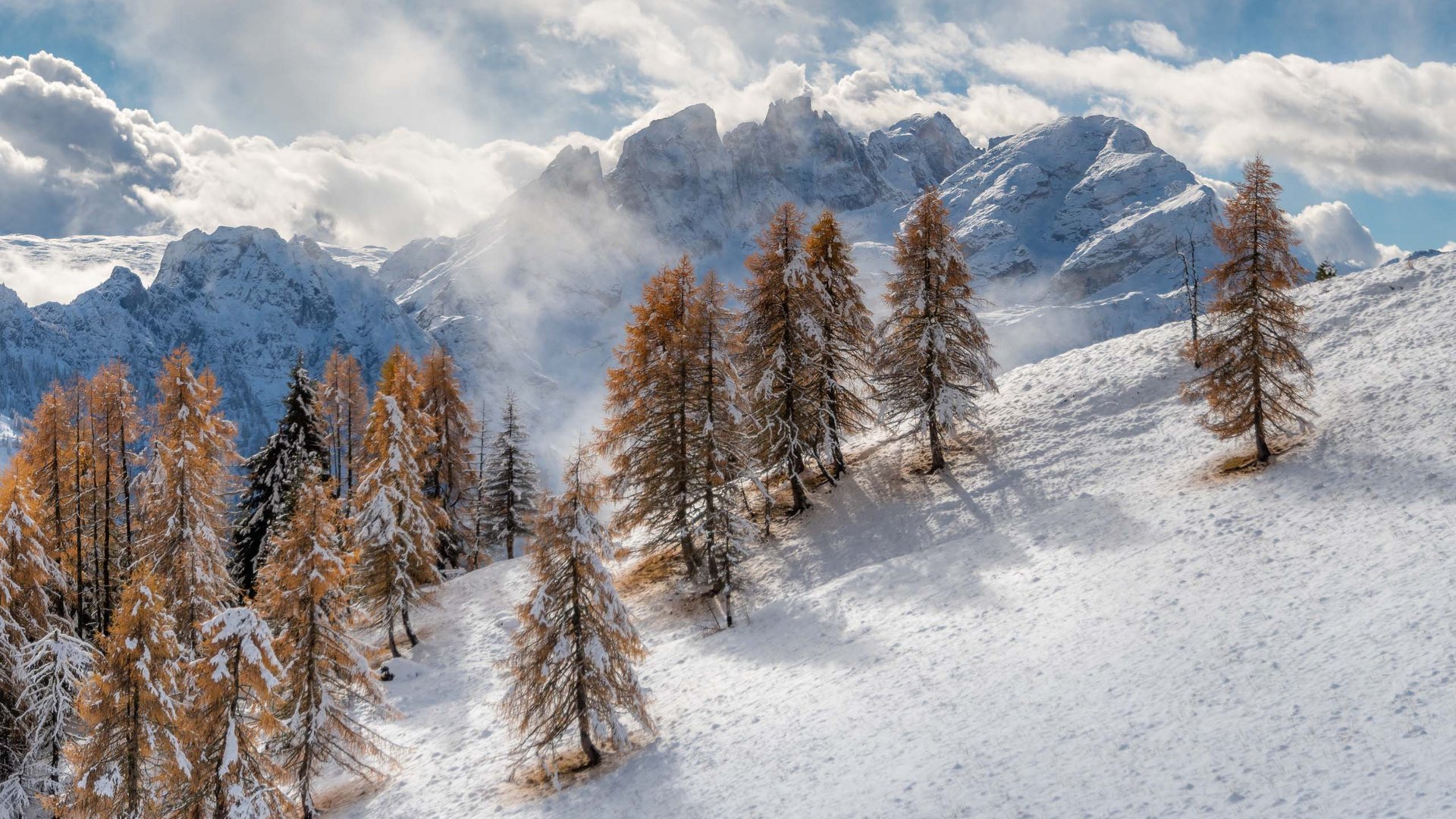 Falcade – a natural treasure trove
Italy
Lovingly restored and decorated, the former hay barns, Tabià, nestle against the slopes and characterise the enchanting landscape as much as the awe-inspiring peaks of the Dolomites. Your eyes go on a journey, taking your mind with them. Your soul feels free in this magically beautiful place known as Falcade.
Worthwhile.
Holidays in Falcade.
A magical peace fills you when you arrive in Falcade for the first time. Your gaze glides over the idyllic Alpine meadows and dense forests, all the way up to the peaks of the Dolomites. Marmolada, Civetta, Pale di San Martino, Cime del Focobon, and Cima d'Auta – and their appearance is just as beautiful as their names. Here, nestled amongst the Pale Mountains, at the heart of Valle del Biois, lies Falcade. Enchanting and authentic – that's the perfect description of this charming holiday destination in Italy, as here, on this once main route connecting the north of Europe with Venice, traditions are preserved like precious jewels – starting with the Ladin language. Falcade is a natural treasure trove that reveals a wealth of delights in both summer and winter. Hiking, mountaineering, biking, skiing, snowshoeing – in Falcade, you can enjoy it all. But Falcade is much more than a fantastic playground for adventurers of all ages. Because there are few mountain villages that are so rich in culture and art. Find magical energy. Discover Falcade.
Carefree.
Your journey to Falcade.
They say the journey itself is the reward. And they're right: Your journey to Falcade is a unique experience, as new perspectives await you behind each corner.
The nearest train station is located in Belluno. From there, you can take the Dolomiti Bus to Falcade.
From Trento train station, bus lines 101 and 123 operated by Trentino Trasporti run at regular intervals.
During the summer months, bus line 71-E operated by Dolomiti Bus runs between Bolzano and Falcade.
If requested through your host you'll be brought from the bus stop straight to your accommodation.
Buses run from Belluno and Trento to Falcade at regular intervals. In summer, you can also reach Falcade by bus from Bolzano. In winter, a ski shuttle service runs between Falcade and Venice Marco Polo airport and Treviso Antonio Canova airport, as well as Venice-Mestre train station. This service is exclusively available for guests of accommodation providers that are members of Promo Falcade.
The nearest airports are located in Venice and Treviso. We only recommend travelling by plane for long distances.
Worth knowing.
A holiday without your car in Falcade.
Feel free – without your car. Thanks to a sophisticated mobility concept, the sky's the limit in Falcade.
You can easily reach Falcade on the Dolomiti Bus or Trentino Trasporti bus.
In winter, the ski bus runs every half an hour from the village to the lifts.
Discover hidden treasures with the summer bus for guests.
The town has three mountain bike and e-bike rentals.
Numerous charging stations for e-bikes are distributed throughout the area.
The lifts are open in summer. The downhill run is found directly in the village (see Dolomiti SuperSummer programme). Discover the countless flow trails.
In the valley, you'll find a network of mountain bike trails that are worth experiencing (Falcade Bike Trail).
Worth booking. Accommodation in Falcade.
Wake up, glide out of bed, and gaze in wonder. Whether it's a holiday apartment, bed and breakfast, or hotel, all accommodation has one thing in common: the sensational view of the Dolomites.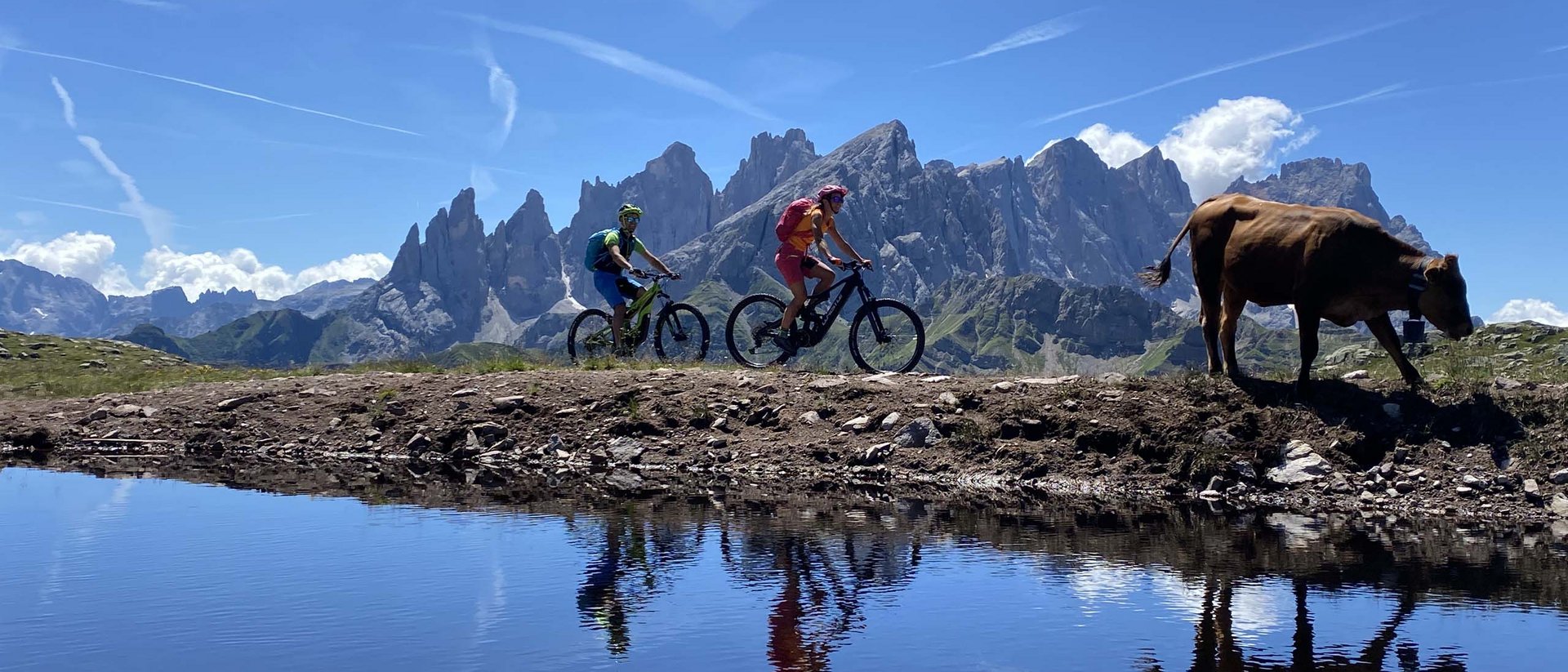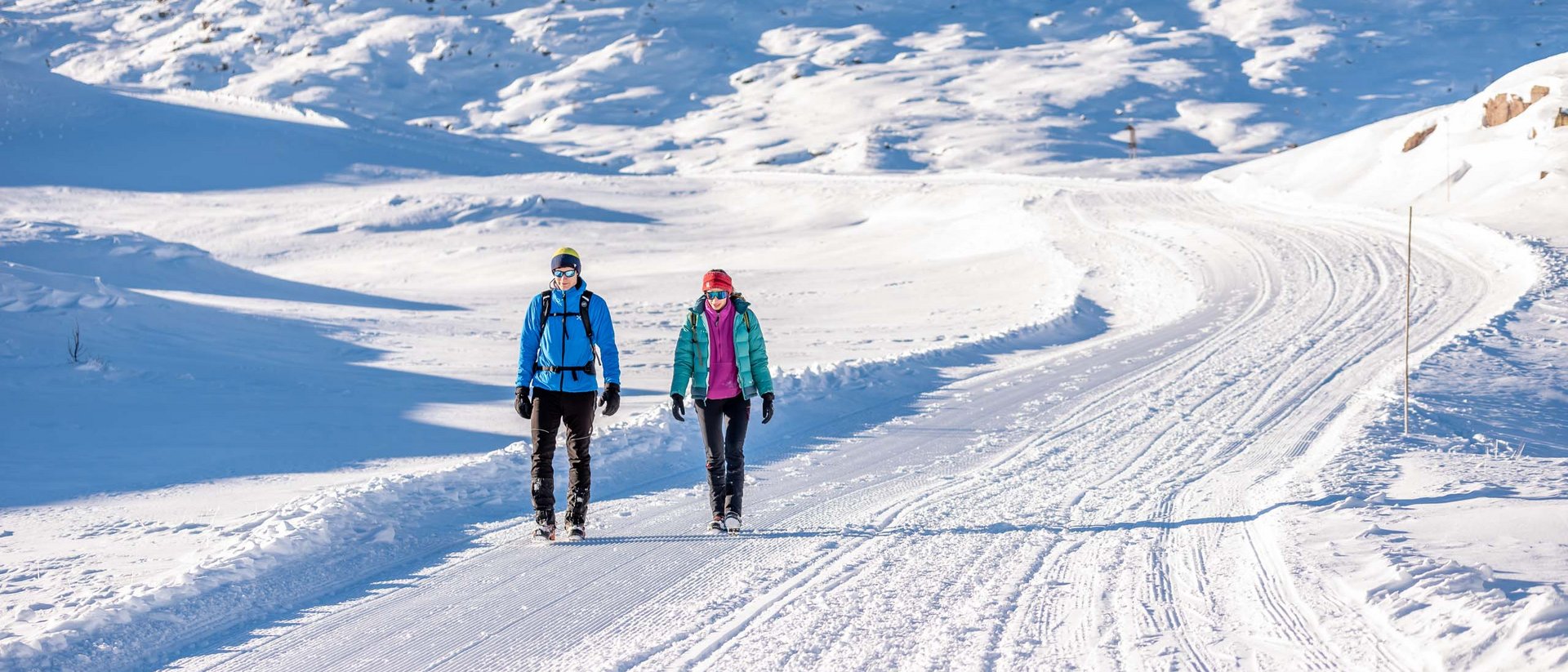 Worth experiencing. Magical Falcade.
One glimpse is all it takes – and you'll be enchanted. By the beauty of the natural landscape. By the awe-inspiring mountains that give this area its special character. Like a kaleidoscope, new views and insights open up at every turn that will stay in your heart forever.
Countless hiking trails wind around the bizarre rock faces and guide you into a mountain world that couldn't be more beautiful. Amongst solitary peaks and lush-green Alpine meadows where countless wild herbs and flowers bloom lies a real paradise for hikers, mountaineers, and climbers. Falcade is directly on high route number two, which begins in Brixen and leads to Feltre via the San Pellegrino pass and Mulaz hut. Another hiking highlight is Alta via dei Pastori, the high route of the shepherds, which links various pastures, and Alta via Tilman, which was once used as an escape route by partisans. History buffs can marvel at traces of the First World War while they walk. Glide your way up to Mt Col Margherita in the lift. The area once saw fierce fighting on the Austrian-Italian front. As well as silent witnesses of this time, you'll also find the "Le Rocce Fiorite" themed nature route, along which you'll discover the numerous geological treasures of the Dolomites.
Experience mindfulness on two wheels in Falcade. Pedal by pedal, you leave everyday life further and further behind. The fresh mountain air floods your lungs while the view of the Dolomites fills your heart. Numerous bike tours in the shade of the Pale Mountains lead you through silent forests, up impressive passes, and to secluded spots. Especially popular: the trails to Flora Alpina or Le Buse hut, up Mt Celenton, into Val Gares, or to the little Jore chapel. You'll also find three worthwhile, panorama-rich single trails on Mt Col Margherita. Other tours lead you to the small, tranquil villages of Somor and Sappade or to San Tomaso Agordino, where you can experience thrilling adventures amongst the miniature Dolomites.
When the first snowflakes begin to fall in winter, a magical peace settles upon the valley. The snow sparkles like a million diamonds in the winter sunlight, which accompanies you on your adventures. Know you're on the right track while cross-country skiing as you glide gently over the trails that run through the valley. Snowboarders and skiers, on the other hand, will find winter bliss in Falcade San Pellegrino ski area with around 100 kilometres of slopes that connect the province of Belluno with Trentino and belong to the Dolomiti Superski carousel. If you'd rather have off-piste fun, you'll love Mt Col Margherita freeride park. You can also leave your tracks in the snow on a ski tour, such as up Cima Mulaz peak, Forca Rossa pass, or Passo delle Cirelle pass. The view from up here on mighty Marmolada glacier will enchant you just as much as the idyllic winter landscapes that you'll discover while snowshoe walking. Eco-friendly tourism in the Alps is an experience-rich adventure.
Art and culture in Falcade.
Worth seeing.
Culture is cherished like a treasure here in this unspoilt area. Over the millennia, a language has survived and thrived here that can trace its roots back to the Romans and is only spoken in the Dolomites valleys: Ladin. Something that's just as worth preserving as the language is the valley's art, created by extraordinary artists. These include Augusto Murer, whose works reflect the soul of the mountain folk. His works are exhibited in renowned museums around the globe. A museum in the village is also dedicated to this famous son of Falcade, where countless works of art, sculptures, and drawings are preserved. Falcade and Valle del Biois resemble an open-air art gallery. Numerous facade murals by well-known contemporary artists and ancient frescoes adorn the houses and religious buildings. This artistic variety earned the valley its other name "Valle coi santi alle finestre" – the valley with the saints in the windows. The inhabitants have stronger bonds to their culture and traditions than in any other valley. Since the 1960s, the Val Biois Folklore Group has dedicated itself to ensuring their true identity doesn't get lost by the wayside. And that's why the inhabitants proudly wear their traditional costumes, knowing that they're an expression of who they are.
Culinary traditions in Falcade.
Worth savouring.
The traditional cuisine is great in its simplicity and as authentic and diverse as the people who live here. Recipes from grandma's days, like homemade pasta with poppy seeds, lasagne da fornel, papazoi (flour dumplings boiled in milk), and casunziei (ravioli filled with beetroot, herbs, or pumpkin), venison platters, pastim (seasoned mince), or carfogn (little pancakes with a poppy seed filling) are served in the mountain huts and with a modern twist in the restaurants. Many dairy products are produced on the pastures during the summer months. These include the traditional Focobon mountain cheese, which boasts "Slow Food Presidium" status. Slow Food and culinary arts are all-important in Falcade. The local hotel management school has produced several excellent chefs who preserve the traditional cuisine of the Dolomites like a treasure.