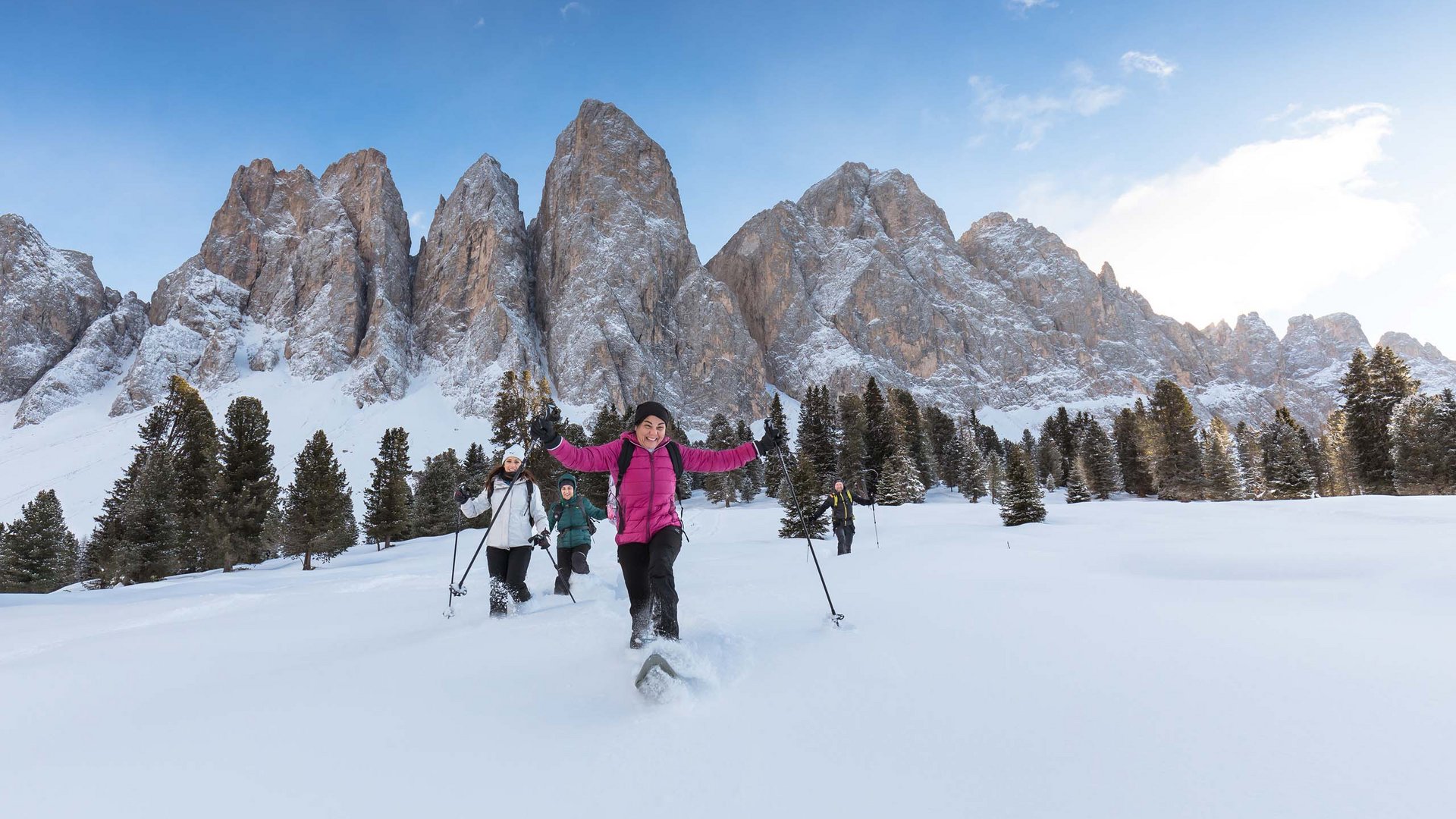 Villnöss – a dream destination in the Dolomites
Italy
You lift your gaze. From the gentle flowers of the meadows and the mystical darkness of the forest up to an awe-worthy symphony of immense, grey rock walls: the Odle/Geisler group. These silent witnesses to the earth's history characterise pristine Val di Funes/Villnöss, which is rich in contradictions. And rich in natural beauty.
Worthwhile.
A holiday in Villnöss.
When you think of Villnöss, the Odle/Geisler group immediately springs to mind, the magnificent rock formations that inspire awe and wonder in the face of millennia-old nature in its purest, wildest form. Beneath the vertical walls of the UNESCO World Heritage, green islands of forest and idyllic pastures stretch out, like Casnago/Gschnagenhardt Alm where extreme mountaineer Reinhold Messner spent his summers as a child. Immersed in the freedom of the mountains that shaped his life – just like all residents of this tranquil valley where the advantages of a gently rolling, low mountain landscape combine with the Dolomites experience. Six villages – Teis, St. Valentin, St. Jakob, Coll, St. Magdalena, and St. Peter – along with several hamlets with stately farmhouses lie dotted throughout this valley community that has dedicated itself to eco-mobility and sustainable tourism. The Villnöss locals couldn't love their home more. And they've made preserving it their life's work. The Brillenschaf sheep, which was saved from extinction, has become a symbol of the values that Villnöss stands for: a valley that safeguards its treasures. Find embracing comfort. Discover Villnöss.
Carefree.
Your journey to Villnöss.
The road winds upwards through a deep ravine. Past traditional villages and steep mountain meadows. Back into the valley. Your gaze wanders upwards. To the legendary peaks of the Odle/Geisler group.
If you're travelling by train, Brixen is the best arrival train station. All EC trains stop here.
From Brixen train station, public buses – coordinated with the train timetables – leave for Val di Funes/Villnösstal every hour. For information on the bus connections and timetables, visit https://www.suedtirolmobil.info/en/ [LINK https://www.suedtirolmobil.info/en/]. Upon request, your hosts [LINK Your hosts] will pick you up from the train station.
If you wish, your hosts will be glad to send you the Dolomiti Card in advance, which lets you use all public transport free of charge throughout South Tyrol.
If you travel to South Tyrol on trains run by DB or ÖBB, the South Tyrol connecting ticket lets you use public transport to reach your accommodation on your arrival day or return to the train station on your departure day.
The Südtirol Transfer shared shuttle service brings you from the train station or long-distance bus stop directly to your holiday accommodation and back again. For information and booking, visit www.suedtiroltransfer.com/en.
Many accommodation providers also offer a transfer from Brixen train station. Please ask your hosts about this directly.
An individual shuttle service or airport transfer can also be organised via the booking platform www.bookyourshuttle.it.
The Mobilcard lets you use all public transport within South Tyrol, including regional and regional-express trains to Trento as well as the Swiss PostBus between Mals and Müstair, as often as you wish.
We only recommend travelling by plane for long distances. Airport transfers can be organised upon request.
Worth knowing.
A holiday without your car in Villnöss.
Hop aboard. Sunlight caresses your face. Your gaze drifts over meadows, forests, mountains. It's a feast for the eyes. Unhurriedly discover the countless natural treasures in this pristine valley.
From Klausen and Brixen, you can easily reach Villnöss using the regular bus services. All Alpine Pearls hosts are happy to organise private pick-up services from the train station for you.
A convenient shuttle service brings you to the starting points of guided hikes or snowshoe tours.
The valley has an e-bike rental. You can also rent bikes and e-bikes at several accommodation providers.
The free guest card, the Dolomiti Card, gives you free travel on all public transport throughout South Tyrol.
The tourist information has a mobility consultant who is happy to help you with any questions and timetable information: tel. +39 0472 840180 or info@

no-spam.

villnoess.

no-spam.

info.
The Südtirolmobil app offers you practical information about the use of public transport in South Tyrol.
Worth booking. Accommodation in Villnöss.
There are places where you'd like to stay forever. Villnöss is one of those places. Find the accommodation that best suits you.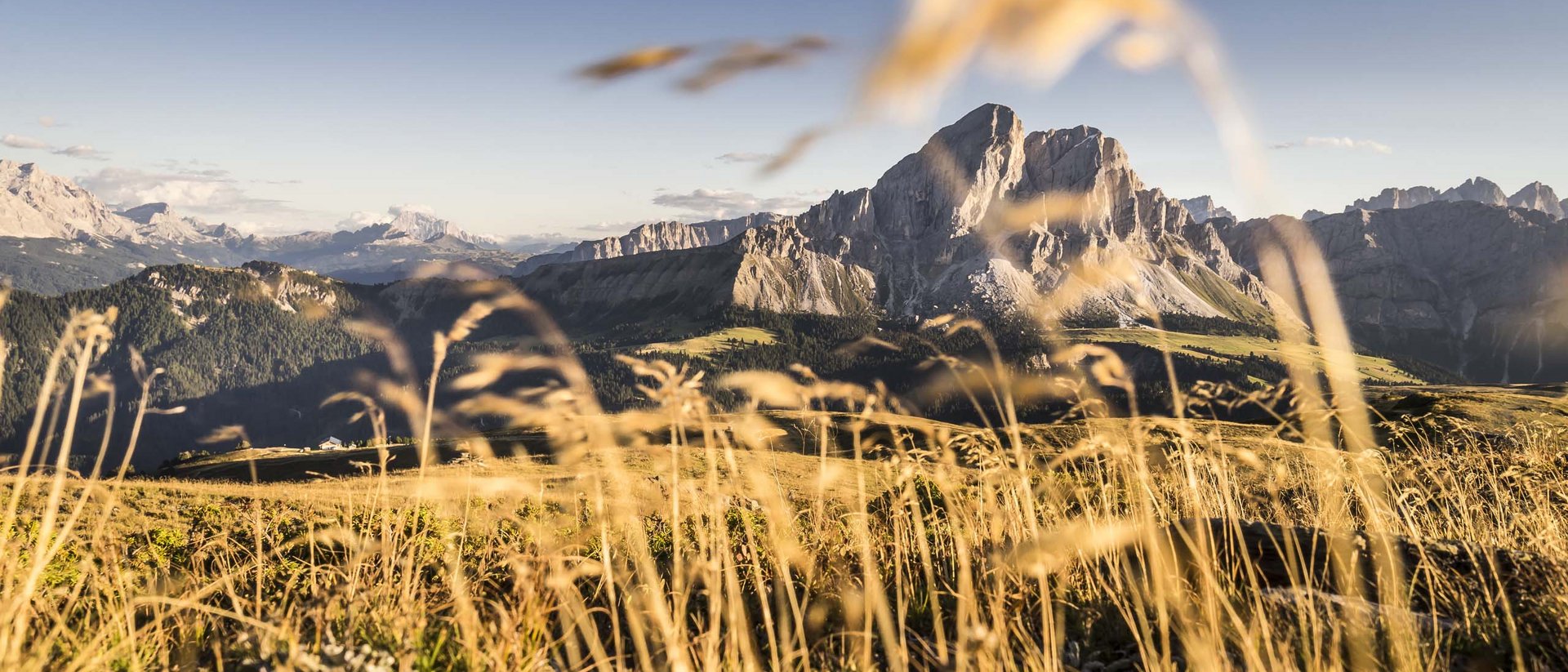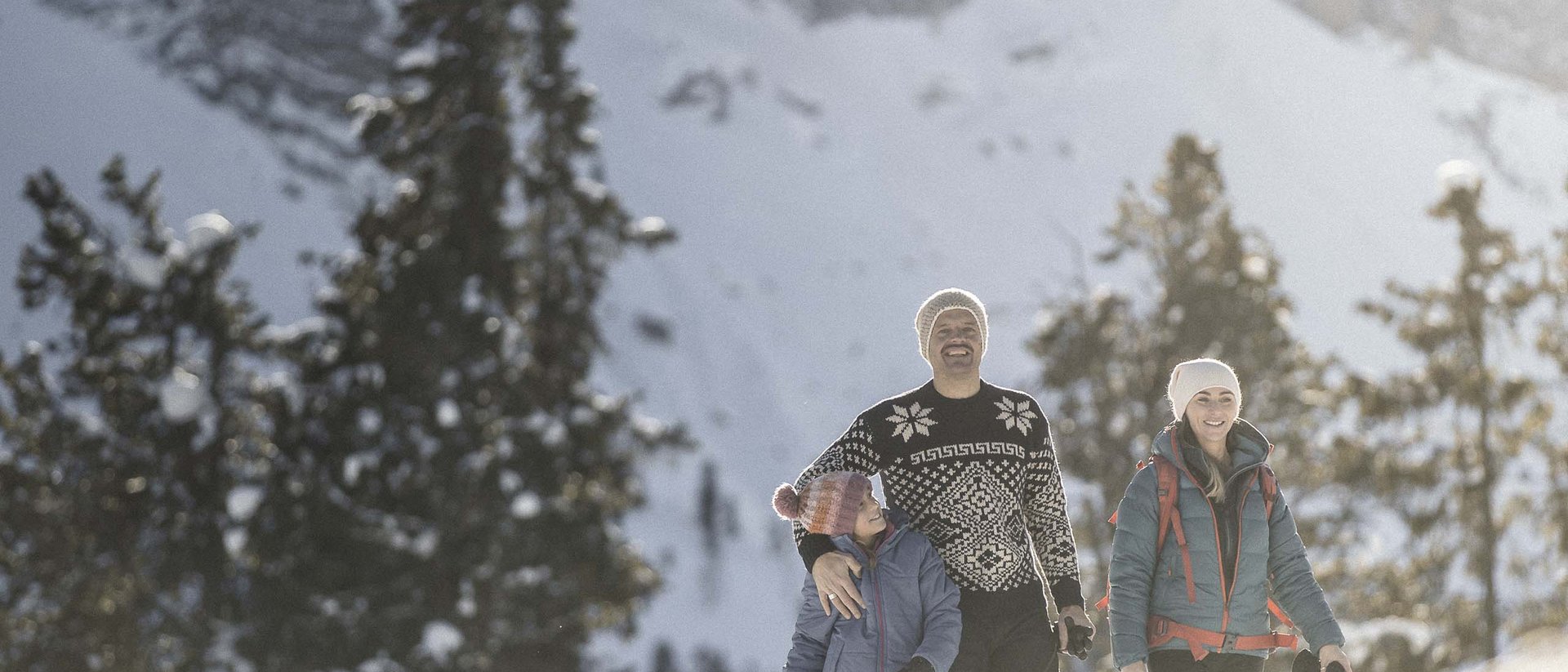 Worth experiencing. The mountain world of Villnöss.
The mighty pronged peaks of the Odle/Geisler group at the heart of Puez-Odle/Puez-Geisler Nature Park tower above the green valley, the home of Reinhold Messner. They beckon you to enjoy new adventures in unspoilt nature, which is at its purest here. Embark on unforgettable journeys in this dream Dolomites landscape.
The scent of sap floods your nose and fresh mountain air fills your lungs. Your heart soars at the sight of the Dolomites, whose beauty eclipses all else. Step by step, you head deeper into a mountain landscape that's as pristine as can be. Peace and comfort embrace you in the valley of paths. Leisurely walks and exciting themed trails in the valley, idyllic pasture hikes, thrilling geo paths, and challenging mountain and climbing tours – the range of hikes is as varied as Villnöss itself. The Adolf Munkel trail runs beneath the peaks of the Odle/Geisler group, offering you spectacular panoramas. On Mt Col di Poma/Zendleser Kofel, a single peak above Rifugio Genova/Schlüter hut, you'll have Val di Funes/Villnösstal and the South Tyrolean mountain world at your feet. While families have fun galore on the Zans nature trail, fit mountaineers can master the dizzying Günther Messner via ferrata and seasoned alpinists can scale Sass Rigais or Furchetta, upon which Reinhold Messner already stood at the tender age of five.
Hop on. Pedal off. Explore new places at your own pace. That's what eco-friendly tourism in the Alps looks like. A wealth of mountain bike tours wind their way through the picturesque valley – from easy to challenging. A special highlight is the Villnöss Alpine tour. It combines everything that bike enthusiasts love: hardcore ascents, cosy huts for a bite to eat, spectacular views, and swift descents. Other tours that will thrill you are the challenging Jochrunde circular tour, the Valle di Eores/Aferer Tal circuit, the trail to the Muntwiesen meadows, or the varied e-bike tour to Brixen via Teis. If you want to combine slow bike with Slow Food, then the guided e-bike tour ticks all the boxes. You won't be able to get enough – of the views or the culinary delicacies.
Plod unhurriedly through the snow, pulling your toboggan behind you. Your breath rises in clouds. Towards the sky. Towards the peaks of the Odle/Geisler group. In the shadow of the bizarre rock faces, six perfectly groomed natural toboggan runs with a total length of some 20 kilometres make their way down into the valley. Look forward to high-spirited tobogganing fun during the day and romantic rides by moonlight. Glide gently through nature on the well-groomed cross-country ski trails that take you to Alpe di Zannes/Zanser Alm hut and up to Passo delle Erbe/Würzjoch. If you want to reach higher heights, we recommend a winter hike or – if you've set your eyes and heart on the summit – a ski tour, for example up Mt Col di Poma/Zendleser Kofel, Bronsoijoch pass, or Mt Gabler, next to which Brixen's Plose ski area is located. In Villnöss itself, you'll find the "Filler" village lift in St. Magdalena, which is ideal for beginners and families with children.
The way to anyone's heart is through their stomach. That's why the residents of Villnöss preserve their culinary treasures as carefully as they do their natural jewels. Treasures that can be found nowhere else, like Villnöss "Brillenschaf" sheep, which were saved from extinction, "Graue Geisler" cattle, Villnöss mountain cheese, or Villnöss honey. The people of Villnöss are bound by special ties, so it's no wonder that they created the first Slow Food travel destination in South Tyrol together with Slow Food. They believe that a slower pace begins at the table – with culinary creations made from local and seasonal products. Dishes that whisk you away on a special sensory journey. The whole year round. Whether it's in the restaurants or the mountain huts, you'll taste the love that the people of Villnöss have for their home.