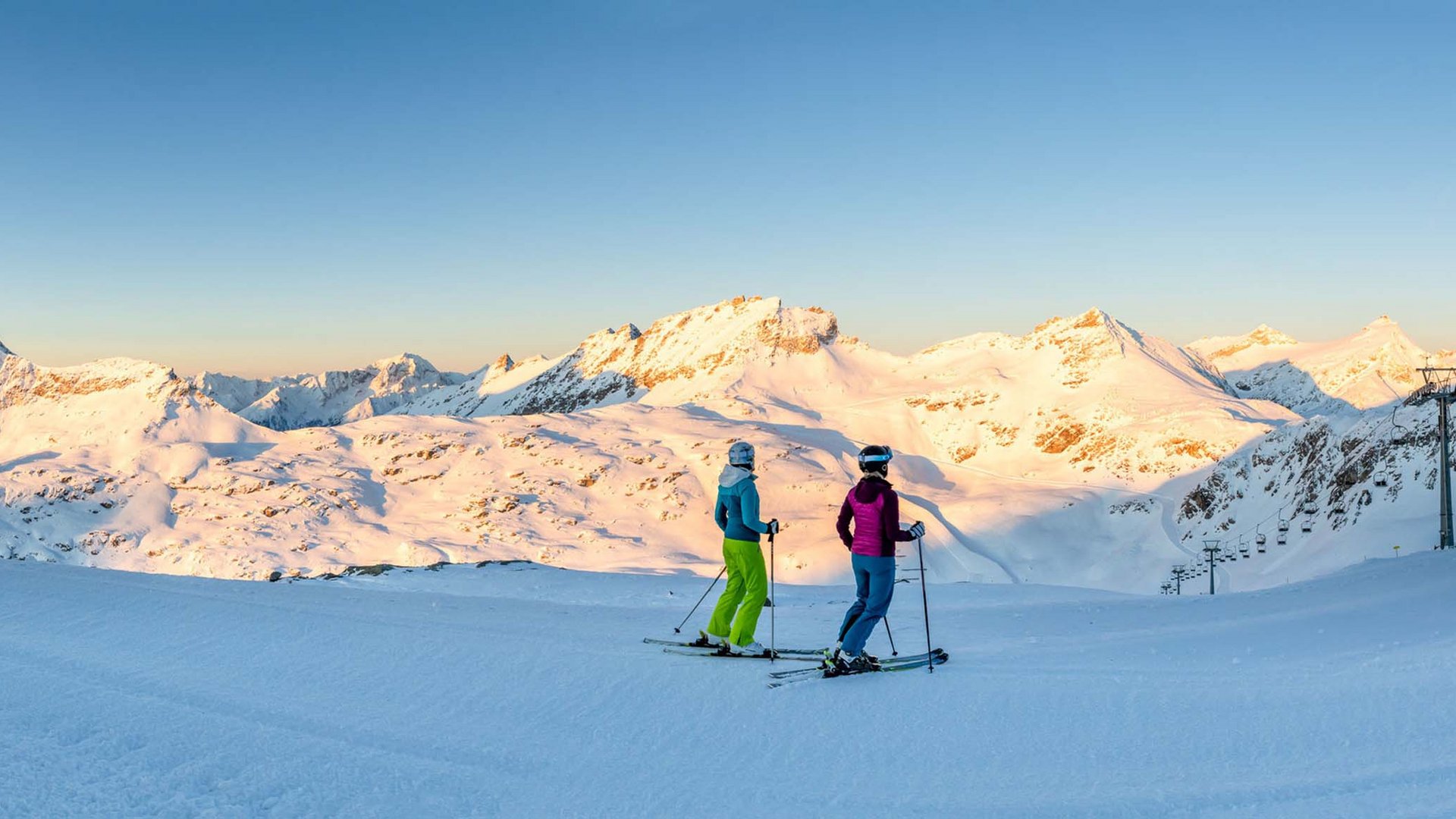 Mallnitz – the gateway to Hohe Tauern
Austria
Mallnitz – the gateway to the world of Hohe Tauern. That was the slogan on a poster from back in 1930. And just as this slogan is equally applicable now as it was then, the charming climatic spa has also retained its authentic appeal and unspoilt natural treasures.
Worthwhile.
A holiday in Mallnitz.
Sitting on the train in blissful silence, you watch the stunning Alpine landscape rolling by. High mountains and silent forests line the route as you travel straight into the heart of Hohe Tauern National Park: to Mallnitz. The fresh mountain air is so pure here that Mallnitz has officially been awarded climatic spa resort status. The mountaineering village has always been the epitome of sustainable holidays. The Alpine train line that leads from Vienna through the Tauern tunnel via Mallnitz to Trieste has connected the little village with the two most important cities of the Habsburg monarchy since the beginning of the 20th century – and brought the tranquil village fame as the gateway to Europe. Mt Ankogel towers impressively over this idyllic area. It characterises the landscape as much as the people and guests who live here in harmony with nature. Mountain lovers from all over the world have always been drawn to Mallnitz and surroundings. And that's no surprise, as you can get up close and personal with the mountains here. Step by step in kinship with nature. And eco-mobile thanks to an incomparable range of mobility options. Find soul-enriching bliss. Discover Mallnitz.
Carefree.
Your journey to Mallnitz.
Your journey to Mallnitz is an experience in and of itself. Hop aboard and let yourself be transported to the dream tranquillity of the mountains on your holiday without your car.
It's one of the most beautiful and historic railway lines in Europe – the route from Vienna to Trieste with a station in Mallnitz. The construction of the railway, which opened the gateway to Europe, was spurred on by Emperor Franz Joseph I, who approved the route in 1901. Some hundred years later, this railway line is still one of the most important connections linking north and south.
The Mallnitz-Obervellach intercity train station is serviced by international express trains every two hours. There are several direct connections from Germany and Vienna each day. Our shuttle service will bring you from the train station to your Alpine Pearls accommodation free of charge (simply reserve it when you make your booking).
The nearest Flixbus stops are located in Salzburg, Villach, or Klagenfurt. From there, you can take the train directly to Mallnitz.
We only recommend travelling by plane for long distances. Upon request, we will gladly organise an airport transfer.
Worth knowing.
A holiday without your car in Mallnitz.
Car? You won't need that on your holiday in Mallnitz, as your independence is guaranteed thanks to our sophisticated mobility concepts. You can look forward to:
an individual shuttle service from the train station to your Alpine Pearls accommodation
the Alpine Pearls Card that you'll receive from our hosts and gives you numerous benefits, such as free bike hire
a ski touring and tobogganing taxi in Hohe Tauern National Park (for a fee)
a free hiking taxi that takes you to Dösental valley from Monday to Friday with advance reservation
a free hiking bus that takes you to Seebachtal valley, Jamnigalm pasture, Obervellach, Flattach, and Mölltal glacier on Saturdays, Sundays, and public holidays in summer according to the "3-Täler-Wanderbus" timetable
a ski bus that brings you directly to the Mt Ankogel and Mölltal glacier ski areas several times a day free of charge
rental of e-bikes, mountain bikes, and road bikes at Wolligger Sports (in summer)
electric car hire
Worth booking: accommodation in Mallnitz.
Breathe in, breathe out, let go – in Mallnitz, you'll find selected Alpine Pearls hosts who have dedicated themselves to top-quality sustainable tourism.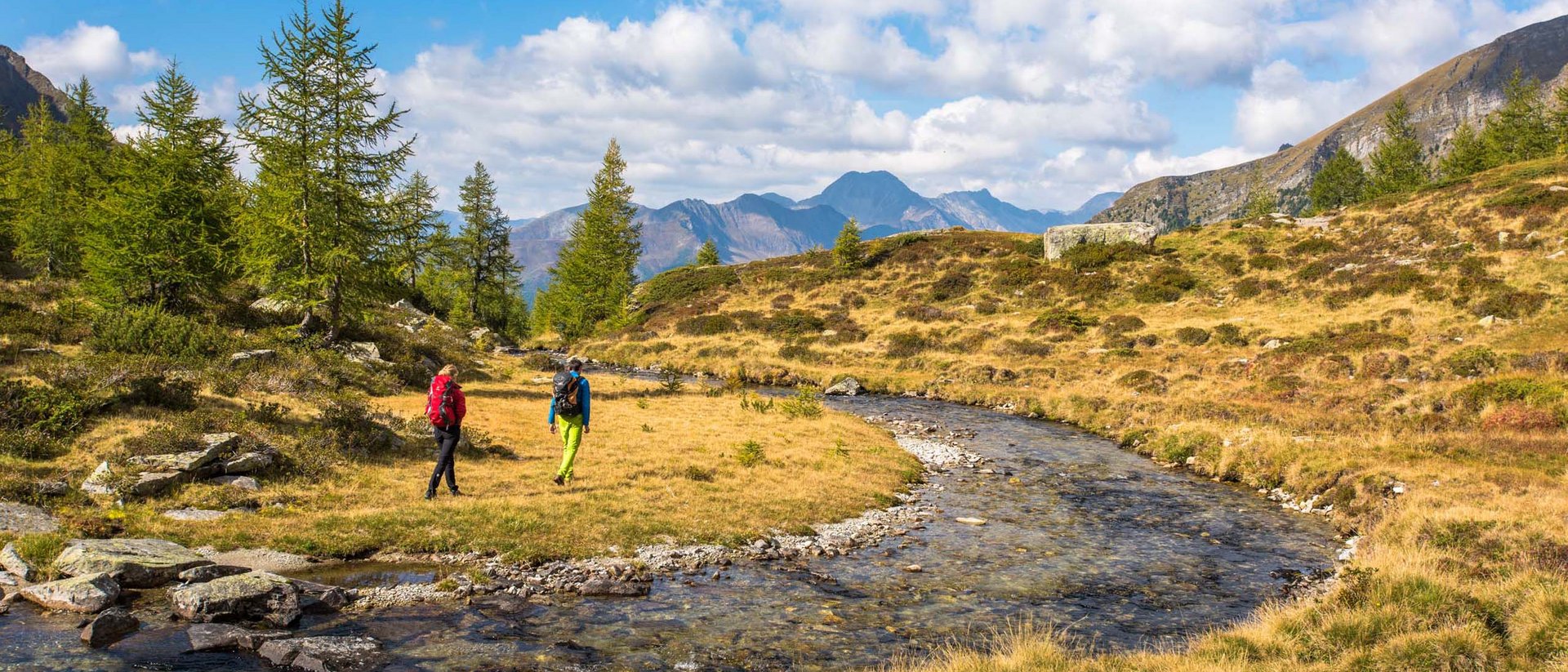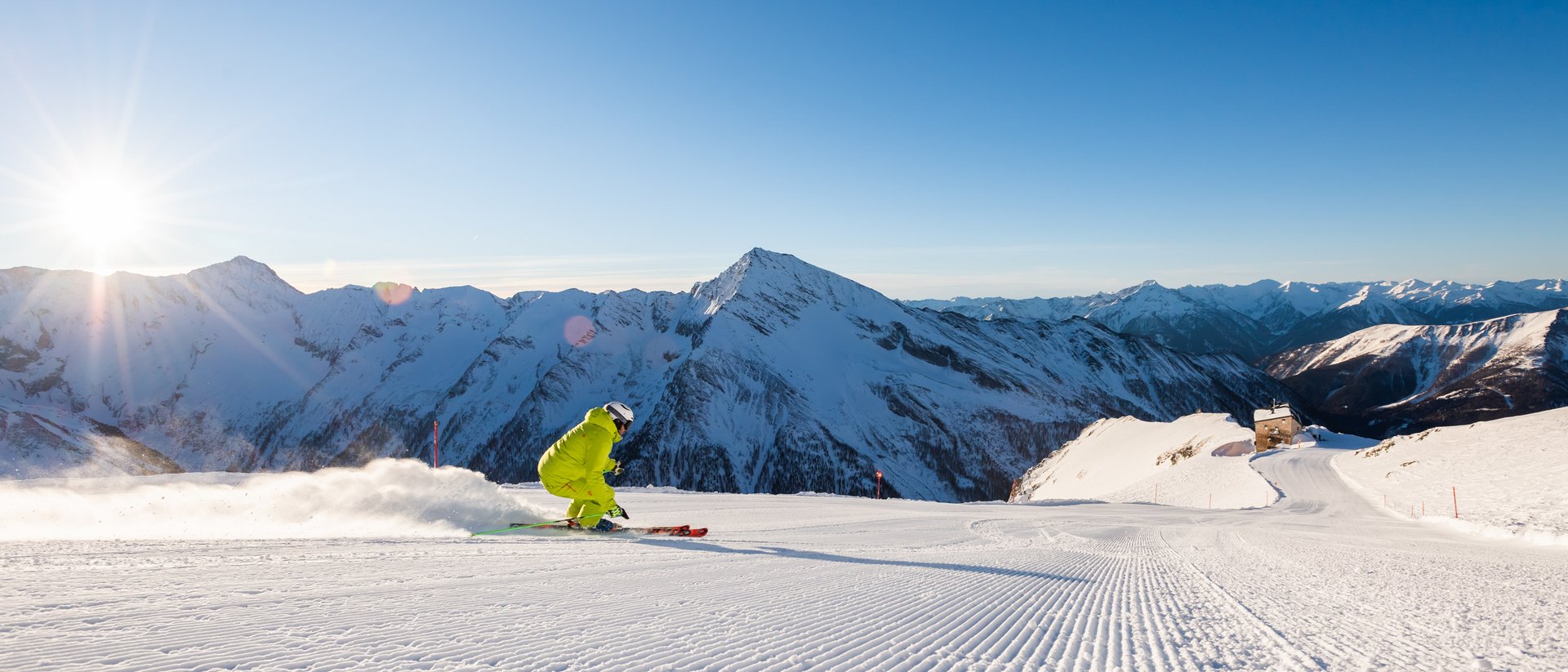 Worth experiencing. Discover the world of Hohe Tauern.
A dream peace sets the tone in Hohe Tauern National Park, undoubtedly one of the most beautiful high-mountain landscapes in the world. There is almost no other place where the charm of the mountains can be felt as keenly as in Mallnitz and surroundings. Discover Mallnitz and its excursion spots. Find the heights of holiday bliss.
Ferns line the path in the forest. The scent of fresh sap fills your lungs. A squirrel quietly hops from branch to branch. Sunbeams filter through the treetops. You reach the edge of the forest, and your view broadens. Awe-worthy Mt Ankogel stands before your eyes and idyllic Mallnitz lies beneath you. You're at the heart of a natural paradise. The Mallnitz high plateau is an ideal starting point for journeys of discovery in the unspoilt high-mountain landscape of Hohe Tauern National Park. Three unspoilt valleys, 200 kilometres of hiking trails at three different elevations, a free hiking bus, and Mt Ankogel lift, which carries you up to 2,600 metres above sea level, await you in this unparalleled natural utopia. Incomparably beautiful: the Seebachtal nature trail. On the Dösental Block Glacier Trail (Blockgletscherweg), you'll discover all about little-known natural phenomena, while on Mallnitzer Tauern pass, you'll walk in the footsteps of the Romans who were entranced by the area's natural beauty. And who can blame them?
Did you know that Mallnitz is the birthplace of mountaineering? Way back in 1762, legend tells that an Alpine farmer by the name of Patsch scaled the glacier summit of Mt Ankogel. Alpine history was also written by Edmund Mojsisovics Edler von Mojsvár, one of the leading mountaineering pioneers. He lived in Mallnitz from 1860 onwards as it offered him the perfect terrain for his greatest passion. Together with mountaineering companions Paul Grohmann and Guido Freiherr von Sommaruga, he founded the Austrian Alpine Club in 1862, played a leading role in exploring the mountains around Mallnitz, and was also involved in the foundation of the German Alpine Club. Today, Mallnitz is a real paradise for mountaineers. With the Tauern ridgeway, the six important mountain refuges, the idyllic high valleys, worthwhile summit ascents, and challenging climbing routes, Mallnitz might be one of the most popular escapes for alpinists. How about a guided tour up imperious Mt Ankogel (3,246m), impressive Mt Hochalmspitze (3,360m), or panoramic Mt Säuleck (3,086m)?
Pedal by pedal on e-bikes or mountain bikes, which you can rent with us in Mallnitz, you ride through the three high valleys or up to one of the many mountain pastures and huts, where you'll be served typical Carinthian "Kasnudeln" cheese ravioli and our favourite dish, "Frigga". Invented by the woodcutters of bygone days as an energy-boosting meal, today this heavy egg dish with onions, speck ham, and mountain cheese is a delicacy that you absolutely have to sample. In Mallnitz and surroundings, you can look forward not only to culinary treasures, but also to a whole host of adventures for the entire family. Show your children the many wonders of nature, perhaps on a hike into Seebachtal, which leads past numerous waterfalls to astoundingly beautiful Lake Stappitzer See. Other worthwhile experiences include a trip to the Hohe Tauern National Park visitors' centre in Mallnitz, where you can study flora and fauna, and the wilderness tour "On the trail of the red deer". Expand your horizons and embark on a special safari with a national park ranger. On the guided wildlife-watching trip along the Tauern ridgeway, you'll enjoy extraordinary encounters, as you'll be immersed in the untouched wilderness of Seebachtal. To bring the trip to a close, Hannoverhaus at 2,500 metres above sea level invites you to enjoy specialities of Carinthian Alpine-Adriatic cuisine.
When nature is clad in beautiful white, the mountains beckon. You can reach Mt Ankogel lift with the free ski bus that runs every 30 minutes. The lift brings you directly to the small but excellent ski area with its wide, sunny slopes that invite you to weave your way down them. Twice in the morning and twice in the afternoon, a free ski bus takes you to the breathtaking Mölltal glacier ski area. The ride itself up to this giant of ice and snow offers you a unique experience. With the longest underground funicular and a cable car, you'll glide up towards the sky. Once you reach the top, new horizons open up to you, as well as a panorama that's in a league of its own. Pure winter peace awaits you on one of the 29 ski tours in Mallnitz and surroundings. Between Mt Ankogel, Häuseralm pasture, Tauerntal, and Dösental, you'll find a myriad of possibilities – from simple beginners' tours to challenging, multi-day high-Alpine crossings.
Glide gently away from everyday life. Become one with yourself and nature. The unique 25-kilometre-long cross-country skiing network with trails for skating and classic style whisks you away to the winter solitude of Tauerntal and Seebachtal. The trails, which have been awarded the Carinthian quality seal, partly follow old paths and routes. For example, over 5,000 years ago a mule track led over the Korntauern pass, traces of which can still be seen today. Especially worth taking advantage of: All Alpine Pearls guests use the trails free of charge with the mobility pass. Tread softly as you follow the national park ranger on a snowshoe hike through the unspoilt natural landscape. Step by step, you head deeper into this snowy winter wonderland, where only animals have left their tracks.
The natural and cultural treasures of Mallnitz.
Mallnitz and surroundings is a special realm. A realm full of natural and cultural treasures, noteworthy customs and traditions that have been preserved for centuries thanks to the people that love them. The five remaining storeyed mills in Mallnitz stand testament to the strenuous work of the mountain farmers, who still care for the landscape today. The Rabisch and Groppenstein gorges, through which masses of water have flowed over the centuries, bear silent witness to the history of the Earth, as do Lake Stappitzer See and deep-blue Lake Dösener See, on whose shore stands the Arthur von Schmid house, built in 1910/11. A few years before, in 1903, the Margarethen pavilion belonging to the German and Austrian Alpine Club was built on Winkler Palfen rock, 150 metres above Mallnitz. From up here, your gaze sweeps out across Mallnitz and the Tauern Alpine ridge.