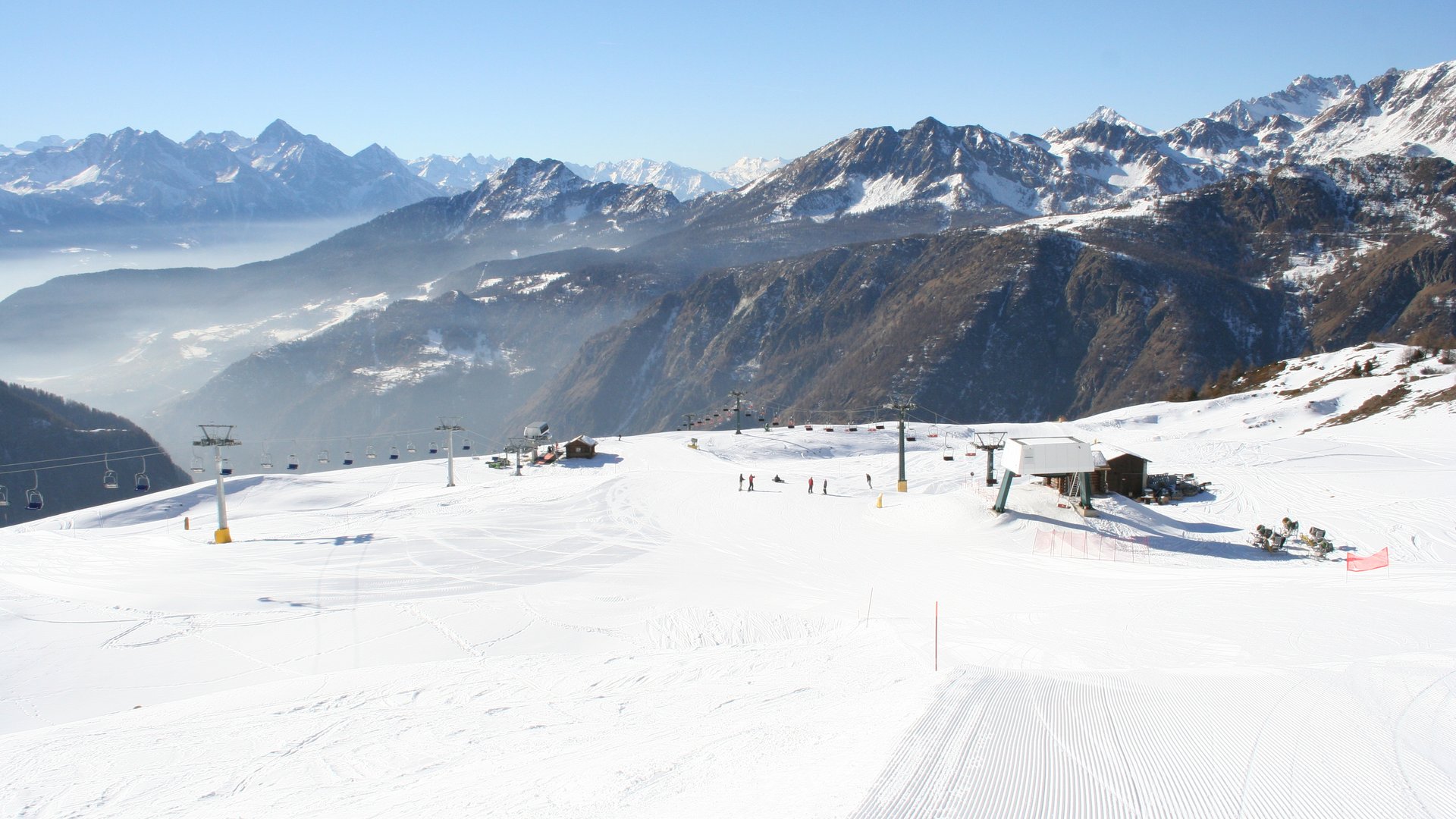 Soul-enriching tranquillity in Chamois
Italy
When the sun slowly peeks out from behind the mountaintops and the deep night-blue gives way to vibrant yellow and orange hues, that's when the village's namesakes appear in the surrounding meadows: the chamois. They live in blissful serenity. Just like the people in this soul-soothing retreat.
Worthwhile.
Holidays in Chamois.
The gently splashing mountain stream wends its way through the soft meadows that embrace Chamois. To the north looms the Matterhorn, known as Mt Cervino in Italy. The traditional "Rascard" stone houses nestle against the sunny mountain slopes. There's nothing, absolutely nothing, disturbing this heart-enriching peace. Chamois is the only municipality in Italy [LINK Italy] that isn't accessible by car. You'll only reach this dream destination on foot, by mountain bike, or by mountain lift. In just a few minutes, the lift glides out of wild Valtournenche on a steep incline up to Chamois village centre at 1,800 metres above sea level. Metre by metre, you float towards another world. A world where time seems to stand still. Humbleness and mindfulness characterise the people who live up here and guard their nature, culture, architecture, and ancient Franco-Provençal language from the influences of modern life. And the guests who visit this escape feel more peaceful and mindful, too. Find soul-soothing peace. Discover Chamois.
Carefree.
Your journey to Chamois.
There's still a place where the streets are car-free, and you'll find it in Italy: Chamois. Glide upwards in the mountain lift and leave everyday life down in the valley. A holiday without your car can feel so good.
The arrival train station is located in Châtillon Saint Vincent. From there, continue by bus towards Breuil-Cervinia and get off in Buisson (municipality of Antey-Saint-André). Then it's just a five-minute lift ride up to Chamois. The lift runs every half an hour (or more often from 15 people upwards) between 7 a.m. and 10.25 p.m. You can take your bikes with you.
Upon request, your hosts will pick you up in Châtillon, Antey-Saint-André, or at the lift station in Chamois.
The nearest Flixbus stops are located in Aosta, Turin, or Milan. From Turin, you can reach Châtillon by train (change once in Ivrea) and then follow the directions above to get to your holiday destination. There are also direct bus connections from Milan to Châtillon.
The nearest airports are located in Turin, Milan, and Geneva. We only recommend travelling by plane for long distances.
Worth knowing.
A holiday without your car in Chamois.
Nothing but clean air, plenty of peace, stunning nature, and an unspoilt, pristine mountain landscape await you in Chamois. And the mobility concept is just as unique as the nature.
Upon request, your accommodation providers will pick you up in Châtillon, Antey-Saint-André, or at the lift station in Chamois.
During the season, an on-demand bus runs in the municipalities of Chamois, La Magdeleine, Antey-Saint-André (reservation on +39 348 1604098), and Torgnon (reservation on +39 334 1546305).
The mountain lift up to Chamois is part of the regional public transport service and runs every day all year long. The chair lift to Lake Lod operates in summer and winter.
E-bikes are available to rent in Chamois. You can charge your bike's batteries at the photovoltaic charging stations in the village. There are also mountain bike and road bike rental outlets.
Numerous hikes start at the cable car stations in Chamois.
A passenger and luggage transport service with electric vehicles is available in Chamois. You can book it by calling +39 335 1027864 or +39 0166 550106.
In summer, the Trek-Bus Matterhorn brings you to Valtournenche, Val d'Ayas, and Valle di Gressoney, either on demand or when booked in advance.
If travelling by car is unavoidable, you can park directly at the mountain lift or at the sport zone in Antey-Saint-André. You can reach the lift by on-demand shuttle.
Chamois itself is 100% car-free.
Worth experiencing. Chamois, a place of peaceful energy.
A feeling of boundless peace and serenity comes over you when you arrive in Chamois. Because all that matters is the present moment. Thoughts of noise, stress, and chaos quickly fade away as you immerse yourself in the natural treasures on the sunny side of life.
The path winds its way through blossom-rich meadows and tranquil forests, past old mountain huts known as "Mayen", built of natural stone. Vibrant pinkish-red Alpine roses adorn the wayside. Now and again, a marmot trills at you from its burrow. Step by step, you walk deeper and deeper into the unspoilt natural landscape that holds so many treasures in store. The chair lifts let you float up into the mountain world, where a wealth of hikes and high-Alpine tours begin, like the hike to Lake Lod or "Point sublime", the viewpoint at 2,500 metres above sea level. Equally worthwhile: the idyllic panoramic trail that connects Chamois to La Magdeleine and the themed hiking trail "Energie in gioco" (energies at play), where explorers of all ages can learn all about energy and the four elements thanks to various installations. If you want to head even higher, you can soar through the air on a paraglider in Chamois. After so many adventures, you can look forward to culinary delights such as polenta cooked over a wood fire and served with meat dishes, venison specialities, or Fontina cheese, typical seuppa au pan (bread soup), or brossa (a warm whey cream) in the restaurants.
Right next to Chamois village hall, you'll find the valley station of the chair lift, which carries you up to where the next chair lift begins. The three consecutive chair lifts transport you up to 2,500 metres above sea level. As well as the wide slopes of the ski area, there are also low-avalanche-risk slopes with a thick blanket of snow that invite you to free ride. While the skiers blissfully wend their way down the ski runs, ski tourers ascend up to Punta Falinère peak, where your eyes are immediately drawn to the unmistakeable Matterhorn. The village of Cheneil offers wonderfully wide slopes with deep snow – and the Matterhorn always in sight. You'll enjoy breathtaking views of mountains and valley during one of the many winter and snowshoe hikes that snake along the sunny southern slopes. That's what eco-friendly tourism in the Alps looks like.