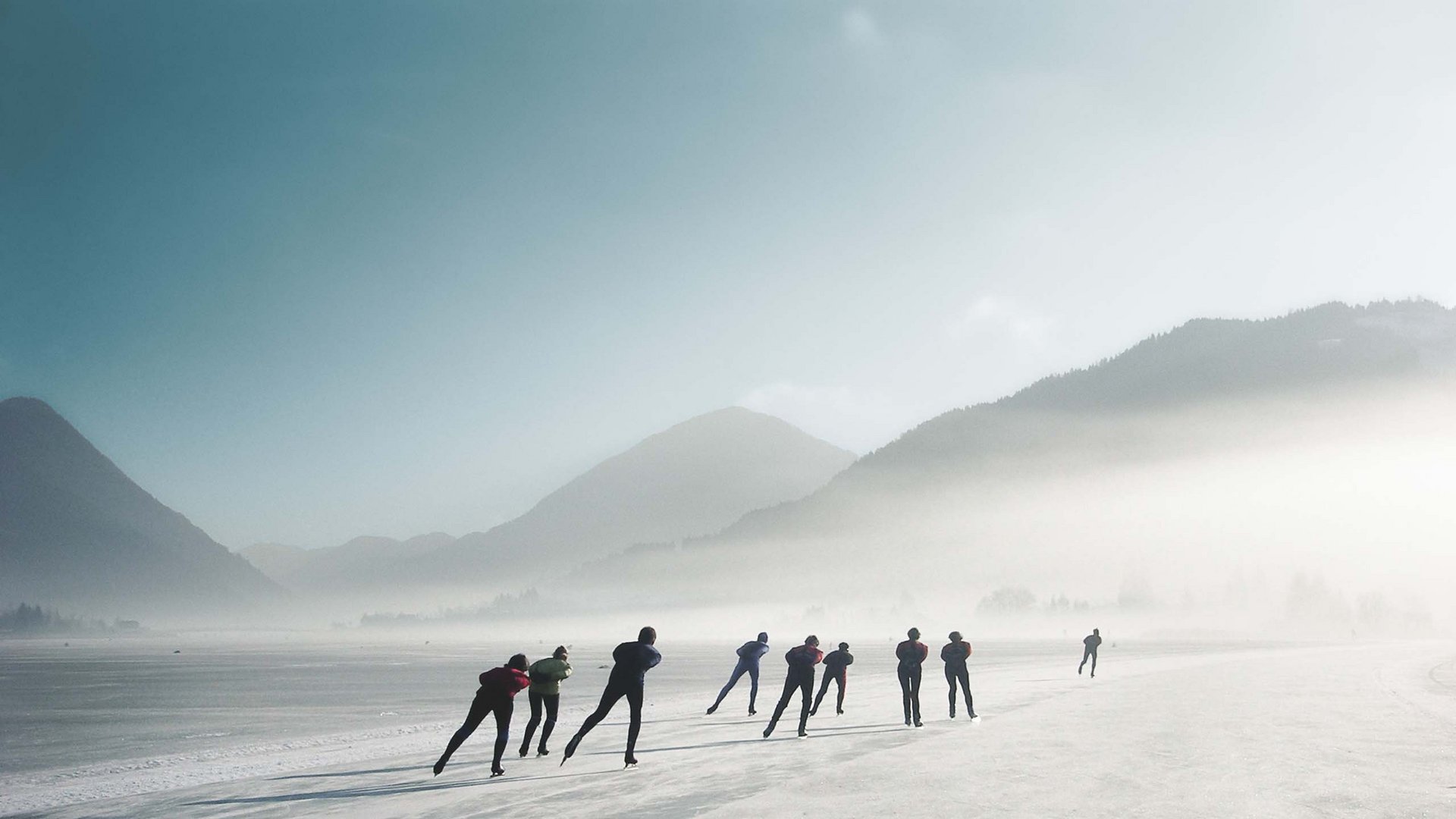 Weissensee – a place of longed-for peace
AUSTRIA
Absolutely nothing breaks the soul-soothing tranquillity. A tranquillity that radiates through your body, fills you with serenity, and quenches your yearning. On Lake Weissensee, the highest and cleanest bathing lake in the Alps, the clocks tick a little slower, meaning you can enjoy each moment to the fullest.
Worthwhile.
A holiday on Lake Weissensee.
The only thing that rolls on Lake Weissensee is the R when the locals speak – no through traffic. The residents enjoy far-reaching views thanks to the fact that Lake Weissensee has retained its natural state over the years. Two thirds of the shoreline are undeveloped and each accommodation has a sunbathing area with lake access. Instead of traffic noise and giant hotels, you'll find a host of friendly faces giving you a contented smile – and reminding you how little you actually need to be happy. The 11.6-kilometre-long Lake Weissensee, nestled amidst the 76m2 nature conservation area, is more multi-faceted than any other. Nature park rangers guide you to dream spots around the lake. With its rugged rock faces and deep-blue water, the eastern shore is reminiscent of a fjord, while the western shore with its almost-white limestone deposits and emerald-green water resembles the Caribbean. The unspoilt natural landscape between the Gailtal Alps and the Drautal mountains with its vibrant flora and fauna is reflected in the crystal-clear water and invites you to pause and daydream. Find your dream spot. Discover Weissensee.
Carefree.
Your journey to Weissensee.
Set sail for new horizons and experience true lightness of being in this dream-worthy spot on your holiday without your car.
The nearest train station is located in Greifenburg. The train station shuttle conveniently transports you to your accommodation. You can book this comfortable service online on www.naturparkshuttle.at.
The nearest Flixbus stops are located in Salzburg, Villach or Klagenfurt. From there, you can take the train to Greifenburg.
In the interest of climate protection, we only recommend travelling by plane for long distances. Upon request, we will gladly organise an airport transfer.
Worth knowing.
A holiday without your car at Lake Weissensee.
A holiday on Lake Weissensee means soul-enriching bliss. You can safely leave your car behind, because you'll enjoy pure freedom with our mobility services.
The Weissensee PremiumCARD/Erlebnispass mobil+ guest cards let you use many mobility services and eco-mobility options free of charge.
A private shuttle service transports you from the train station to your accommodation: Make a reservation by calling +43 800 5001905 or on www.naturparkshuttle.at.
Thanks to "Fred", the electric-car-sharing service, you're always mobile. The electric cars are charged with 100% green electricity and have a range of around 200 kilometres.
The nature park bus runs through the municipality once every 30 minutes in July and August, and once an hour the rest of the year.
In summer, hiking buses travel to the mountain lift and the major starting points for hikes. The Weissensee PremiumCARD or Erlebnispass mobil+ lets you use the buses free of charge.
In summer, an on-demand evening bus runs from 7 p.m. to 10 p.m. Simply call +43 800 5001905 and hop aboard.
In winter, the ski bus brings you to Carinthia's Nassfeld ski area free of charge.
The Weissensee mountain lift transports you in comfort up to the starting point of countless hikes and the MTB practice course.
An electric car is available for you to hire at the tourist information office.
You can explore the lake and its shore at a leisurely pace on a horse and carriage or horse-drawn sleigh ride.
Ships are scheduled to run from May to October. An especially worthwhile experience: a trip on Austria's first electro-hybrid passenger ship, MS Alpenperle.
Head out on the water with pedal boats, electric boats, canoes, or e-waterbikes, which you can rent at Domenig boat rental or Waterpoint.
Rent a bike when you arrive and explore Lake Weissensee on two wheels.
Enjoy a quiet, eco-mobile glide through the nature park on a guided segway tour with the Weissensee segway school.
If you have no choice but to travel by car, you can park in the public car parks for a daily rate of 9 euros or 1.80 euros per hour.
Worth booking: accommodation at Lake Weissensee.
Between sky, land, and water, at Lake Weissensee you'll find numerous Alpine Pearls hosts who have dedicated themselves to top-quality sustainable tourism.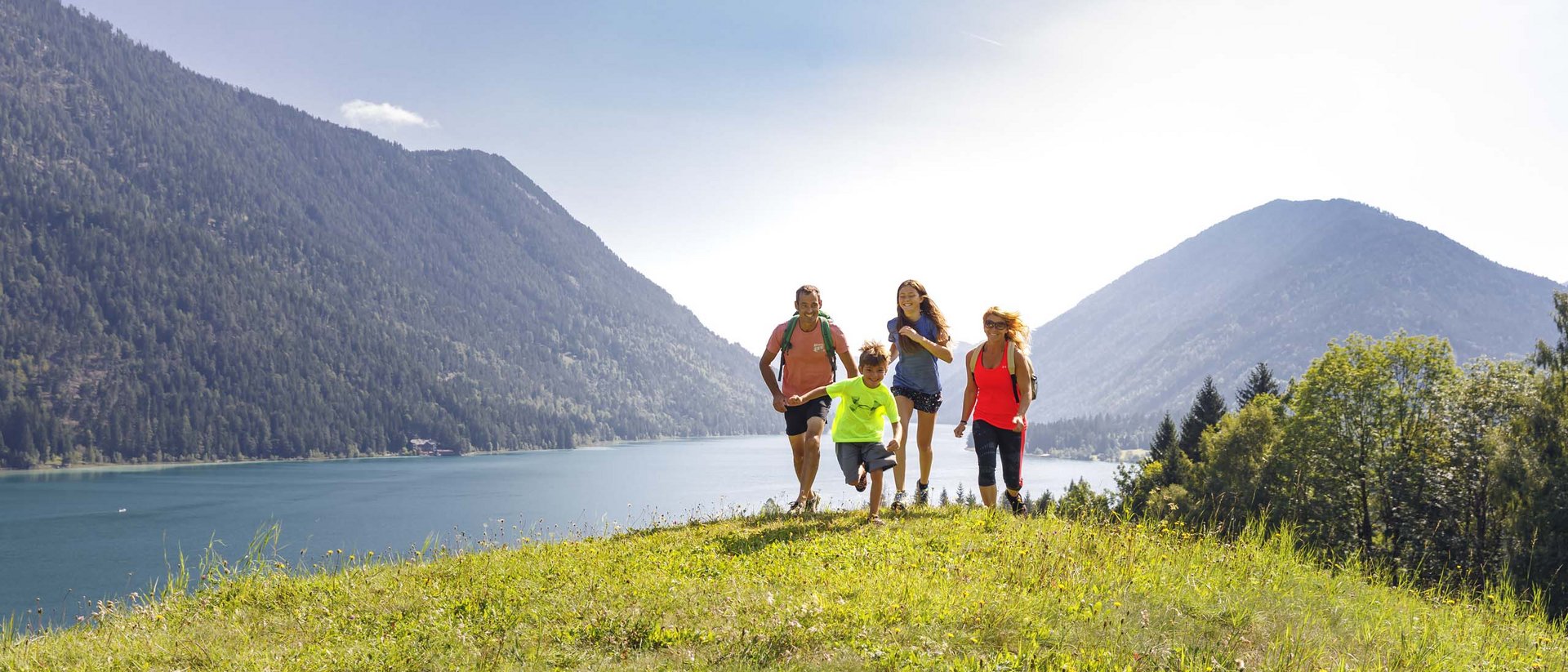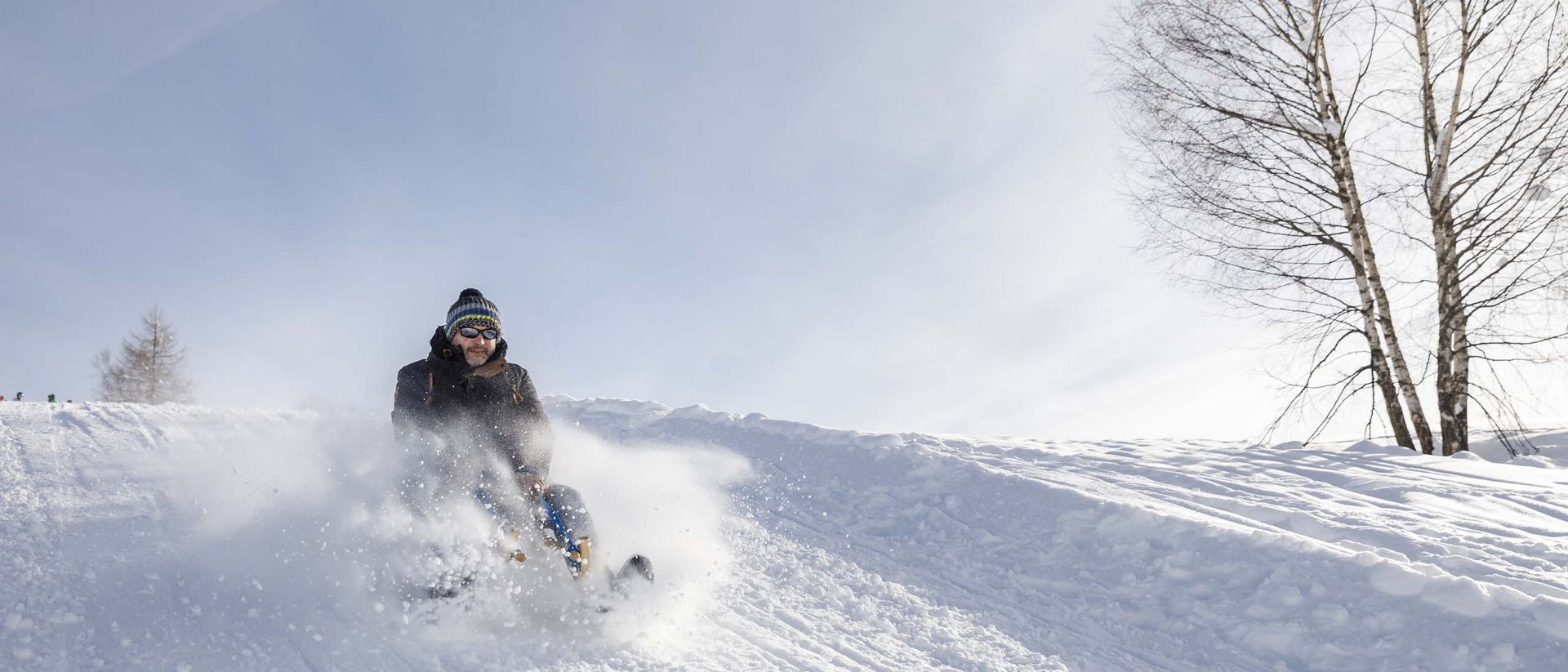 Worth experiencing. Dive in and find your centre at Lake Weissensee.
Words simply can't capture the beauty of Lake Weissensee. Its water shimmers in a myriad of colours, its surroundings offer a wealth of possibilities. On water and on land. This dream spot is a unique natural playground for adventurers of all ages. Discover all the possibilities. Find myriad wonders.
You leave everyday life behind step by step. You take a deep breath. The pure mountain air flows into your lungs. Your gaze drifts over the shimmering turquoise waters of the lake. You dive into pure hiking bliss at Lake Weissensee. Hiking buses carry you directly to the mountain lift and the major starting points for hikes. The best part? The Weissensee PremiumCARD or Erlebnispass mobil+ lets you use the buses free of charge. You can look forward to a total of 200 kilometres of hiking trails, exciting themed paths, and hiking tours that take you along the lake shore, to idyllic pastures, and way up to solitary mountain peaks like Mt Latschur (2,336m) or Mt Spitzegel (2,119m). On clear days, you'll be rewarded with an astounding view from the top, which reaches all the way to Italy and Slovenia. If you prefer to stay at lower altitudes, we warmly recommend the Weissensee Slow Trail. With its enchanting bays and peaceful spots, it's one of the most beautiful lakeside paths in Carinthia. You can return by ship, for example with the MS Alpenperle, Austria's first electro-hybrid ship.
The blueberries by the wayside gleam in beautiful reds and blues. Their sweet scent enchants your nose. You hop off your bike to munch the sweet fruits and gaze out over the lake, which is shimmering a stunning emerald-green in the sunshine. 13 marked trails that cover a total of 160 kilometres with various difficulty levels start directly at the towns and wind their way around Lake Weissensee or lead up through shade-rich forests to lush Alpine meadows. If you want to skip the challenging ascent, simply take the mountain lift. Once you reach the top, you can choose between mountain bike trails on the slopes or three spectacular downhill routes that are suitable for the whole family and lead back down to the lake. If you'd like to work on your cornering technique beforehand, we recommend a trip to the practice course at the valley station of the lift. Speaking of technique: Local mountain bike schools offer courses and guided tours, including the worthwhile tour to Hermagorer Bodenalm hut or the lake circuit, during which you'll discover the most beautiful spots on Lake Weissensee.
A fresh breeze ruffles your hair. Your kayak glides softly over the water, past white beaches and idyllic villages. Change your perspective and enjoy unforgettable aquatic adventures in the clear water that reaches temperatures of up to 24°C. This natural jewel is one of the purest bathing lakes in the Alps and invites you to swim, surf, or paddle. Around 22 different varieties of fish find refuge in the pure waters. If you're lucky, you might even spot some of the rarer ones while diving. With visibility of up to 20 metres and twilight conditions up to a depth of 50 metres, Lake Weissensee is one of the most beautiful diving spots in the Alps. Get up close and personal with Lake Weissensee on taster or specialist courses, diving trips, or while ice diving. Would you like to learn more about the resident fish? Then we recommend a fish farm tour including a tasting. You can even catch the fish yourself. Cast out your line from the shore, savour the soothing peace, and wait patiently for your big catch – or simply make yourself comfortable at a lido and enjoy feeling the radiant sunshine on your face.
Lake Weissensee is one of the few lakes without a lakeside road. There's no traffic noise to disturb the soothing peace. The sole exception was made in 1987, when James Bond once again had to save humanity – this time at Lake Weissensee. In the film "The Living Daylights", 007 played by Timothy Dalton raced over the frozen lake during a thrilling chase. Since then, Bond has had to share his legendary status with Lake Weissensee, which in winter transforms into Europe's largest continually frozen natural ice surface with an area of 6.5km². A thick sheet of ice covers the lake from as early as mid-December and reaches a thickness of up to 40cm. Dedicated "ice masters" ensure the surface remains perfectly groomed and brushed. The conditions couldn't be better for skating laps around the lake, playing an exciting game of ice hockey, trying your hand at the national sport of curling, or gliding over the lake on cross-country skis. The annual highlight on the ice is the "Alternative Dutch 11-city tour", the biggest speed skating event in the world.
Pioneered by the Dutch, who found their own, personal ice-skating heaven on Lake Weissensee, the area turned into an insider secret for everyone looking for a peaceful, sedate winter holiday far removed from crowded winter sports areas with uproarious après-ski huts. On the southern shore of the lake, a small but excellent ski area with child-friendly slopes has been set up. The lift takes you from the centre directly up to idyllic Naggler Alm pasture. With the frozen lake constantly in sight, you can wend your way down the perfectly groomed slopes or glide over the cross-country ski trails in time with the rhythm of nature. Lake Weissensee is an escape that offers a wealth of possibilities in winter, too. Extensive winter or snowshoe hikes through the snowy landscape, high-speed tobogganing fun, a spot of diving in the frozen lake, or a romantic horse-drawn sleigh ride – the choice is yours.
The culinary treasures of Lake Weissensee.
Worth savouring.
Take time for indulgence. Savour the myriad aromas and textures of the dishes, bite by bite. Slow food is on everyone's lips at Lake Weissensee. As the world's first Slow Food travel destination, the region around Lake Weissensee attaches special worth to selecting high-quality ingredients and preparing them fresh. Instead of fast-food chains, the region offers you numerous restaurants and guest houses that have dedicated themselves heart and soul to slow indulgence. Various regional delicacies are served up, whose recipes have been passed down for generations and reinterpreted time and time again. These include numerous specialities featuring freshly caught fish from Lake Weissensee. Slow Food on Lake Weissensee means enjoyment for all the senses. During numerous culinary events, like indulgence hikes or cocktail days, the hosts and restauranteurs await you with a range of typical local delicacies. The Lake Weissensee breakfast raft is particularly worth experiencing: Float peacefully on the lake and let yourself be pampered with local cuisine.