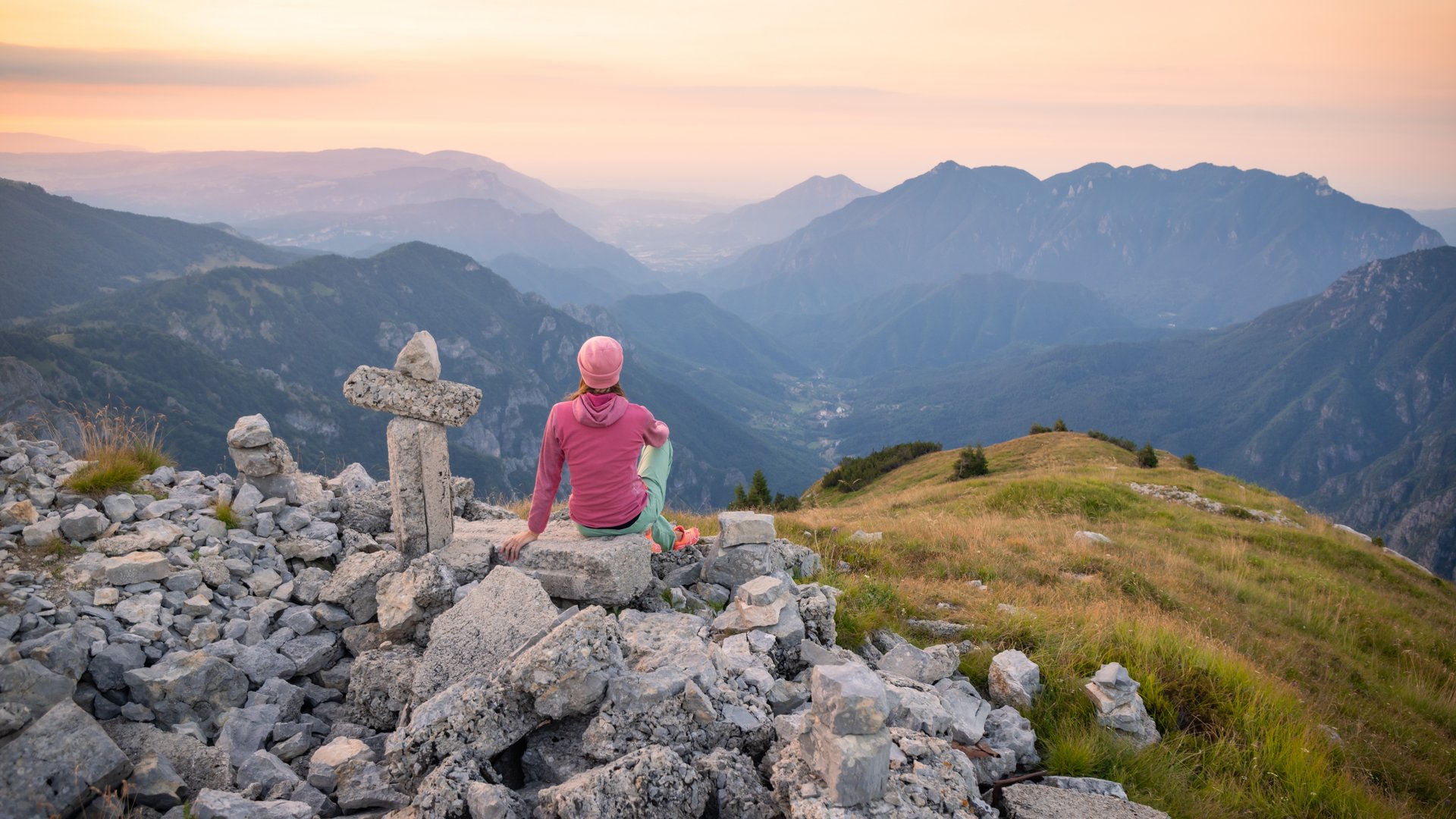 Joy-rich moments on Alpe Cimbra
ITALY
Inhale. Draw in the pure mountain air. With your eyes closed. A feeling of bliss begins to expand and flows through your body, mind, and soul on this high Alpine plateau, Alpe Cimbra. Here, scattered between heaven and earth, is where you'll find the four timelessly lovely escapes Folgaria, Lavarone, Lusérn, and Vigolana.
Worthwhile.
Holidays on Alpe Cimbra.
Cries of "Bolkent" – welcome – reach your ears as you arrive on Alpe Cimbra after a fascinating journey that took you past mighty Castel Beseno. Your gaze ranges over the sprawling pastures, dense forests, and majestic mountain ranges. Breathe in. Breathe out. Pause and surrender yourself to the joy of arrival. Alpe Cimbra is worth visiting, no matter the season. The mountains and Lake Lavarone in summer, the forests' spectacle of colours in autumn, and the perfectly groomed slopes and cross-country trails in winter: all beckoning you to embark on adventures in harmony with nature. Four idyllic escapes – Folgaria, Lavarone, Lusérn, and Vigolana – are dotted across this delicately charming high Alpine plateau. Each more enchanting than the last and with its own special highlights and traditions that are just waiting to be discovered. Equally as unique as the landscape and the people that live here is the language that has stood the test of time. Today, Cimbrian is still spoken and taught in schools in Lusérn. Because preserving things of great worth is close to the inhabitants' hearts. Find your dream-worthy view. Discover Alpe Cimbra.
Carefree.
Your journey to Alpe Cimbra.
Simply hop aboard, set off, leave everyday life behind, and arrive on Alpe Cimbra. Discover the joy of eco-mobile travel on your holiday without your car.
You can reach Rovereto or Trento directly by train. From there, take the bus or a taxi to Alpe Cimbra. You can find more information on the official website of public transport provider Trentino Trasporti.
The nearest Flixbus stop is located in the town of Rovereto, 20 kilometres away from Alpe Cimbra. From there, you can reach us by bus or taxi. You can find more information on the official website of public transport provider Trentino Trasporti.
We only recommend travelling by plane for long distances. The nearest airport is located in Verona Villafranca, which is 90 kilometres away from Alpe Cimbra. Regular shuttle buses run between the airport and Verona train station (approx. every 10 minutes). From there, trains depart regularly for Trento and Rovereto.
Worth knowing.
A holiday without your car on Alpe Cimbra.
Is there anything better than climbing aboard and being carried to blissful energy spots? We don't think so, and that's why you'll find a rich range of eco-mobility options on Alpe Cimbra.
Are you arriving by train or bus? Your accommodation will be delighted to help you organise your journey. Simply ask when you make your booking!
In winter, the ski bus joins the other public transport methods to bring you conveniently to the valley stations of the ski areas.
In summer, the two mountain lifts also transport bikes and pushchairs.
You can get from A to B in perfect comfort with the shuttle bus, which has three lines.
A special highlight, particularly for little guests, is the mini train that makes its leisurely way through the area.
Fancy a spot of biking? You'll find numerous rental points for mountain bikes and e-bikes for the whole family here with us.
Full power. Thanks to numerous charging stations for electric cars and e-bikes, you're guaranteed to stay energised.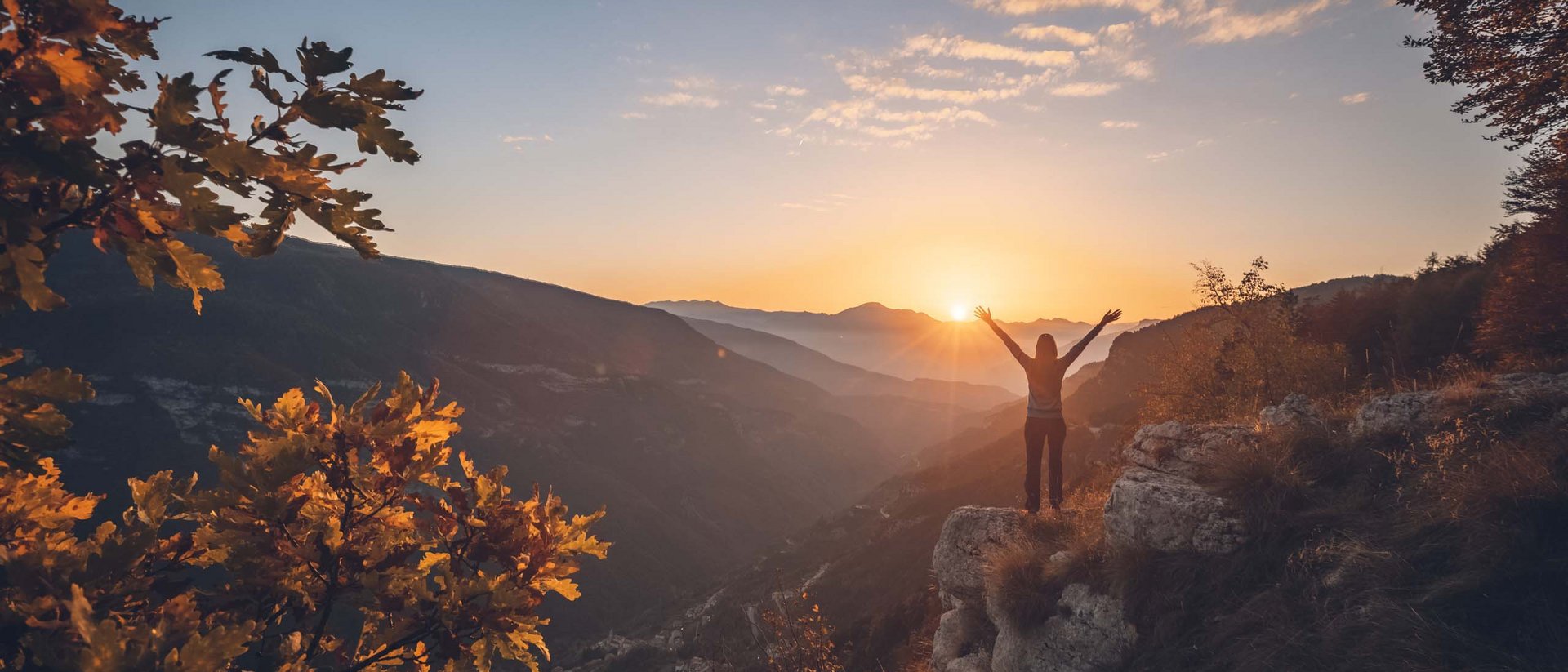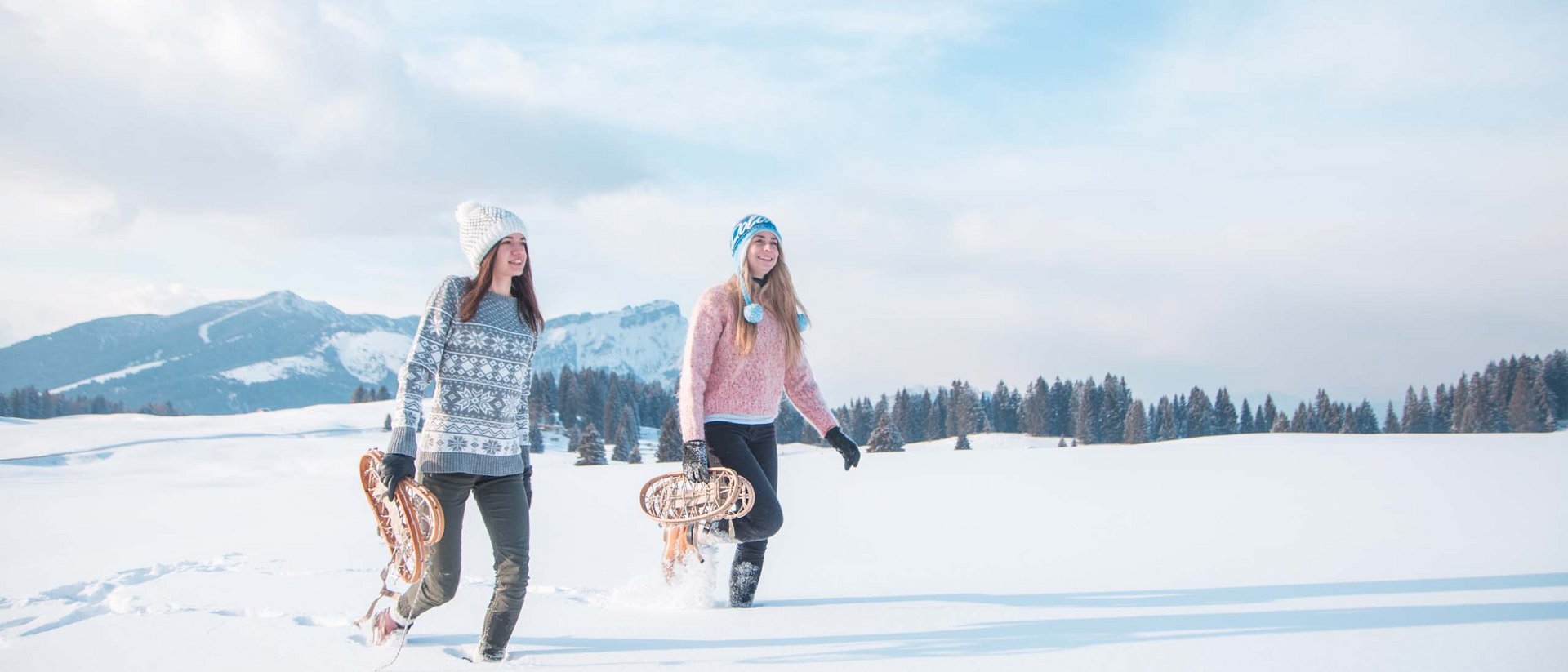 Worth experiencing. Alpe Cimbra high plateau.
The nature of Alpe Cimbra and its four villages Folgaria, Lavarone, Lusérn, and Vigolana is as enticing as their history is fascinating. In this unique area where nature and culture are guarded like a precious treasure, you'll experience a wealth of adventures between land, water, and sky that will stay with you forever.
They call it the eye of the high plateau. We're talking about Mt Cima Vezzena, on which the ruins of Vezzena fortress reign, just one of many worthwhile excursion destinations that our on-demand bus, Alpe Cimbra Express, takes you to. Alpe Cimbra is a paradise for explorers of all ages who are seeking adventures in unspoilt nature. From leisurely hikes to idyllic pastures and exciting themed trails that tell you about history, culture, and nature to special baby trekking paths – families are sure to find their very own hiking bliss here. Is standing right on the summit your idea of freedom? Then we recommend scaling Mt Becco di Filadonna, quite possibly one of the most beautiful Dolomites peaks of all. Other challenging mountain tours take you up Mt Vigolana, Mt Pasubio, Mt Cornetto, or Mt Maggio. But special mountain adventures also await you further down in the valley. How about walking through the Forra del Lupo (Wolf's Gorge), which leads you past the ruins of the Dosso del Sommo fort, or a tour to the trenches in Nosellari? You also keep the mountains in sight while golfing on the 18-hole golf course in Folgaria.
Lost in thought, he wandered along the shore of Lake Lavarone. A vision of a new discipline arose, with which he would go on to achieve fame. No less than legendary psychoanalyst Sigmund Freud chose the beguiling lake to escape everyday life. Today, the blue flag flutters on the shore, only awarded to bathing beaches with exemplary environmental management. In the crystal-clear water, you can not only swim, but also glide out onto the lake on a pedal boat, rowing boat, or SUP board. You can experience the unbridled power of nature while canyoning along Astico/Astach river or while river trekking along Centa river. A hike through Valle del Rosspach promises pure refreshment. The torrent leaps like an ibex over a multitude of steps and rock ledges. A thick forest lines the ancient path that leads you step by step into tranquillity. The water trail is dedicated to the power of water and leads along Astico/Astach river to the little village of Cùeli, where you'll find the Cuel mill. Pay it a visit and discover its historical worth. Ofentol waterfall, tucked away in a gorge, is also highly worth seeing. Thousands of droplets hang in the air and bathe your skin while you listen to the thunderous water and feel peace fill you.
Simply ride away and come closer to nature, pedal by pedal. On Alpe Cimbra, you can look forward to idyllic forest trails, high-speed descents, and strenuous ascents. The variety of challenges is matched by the uniqueness of the stunning panorama that accompanies you on all your tours. The routes, which cover a total of 400 kilometres, lead you through varied natural landscapes between 1,000 and 1,850 metres above sea level that are simply in a class of their own. There's a good reason why internationally renowned races like the Gibo Simoni Marathon, Megabike, or Transalp are held in the Alpe Cimbra mountain bike region. One of the best-known tours for bikers who are in top form is the legendary 100km of the forts, which leads you off road through wild nature. If you'd prefer to thunder down into the valley, you'll find four varied trails for beginners and seasoned bikers in Lavarone bike park. You can also visit the FolgaRide Trail Center in Serrada di Folgaria with a trail flow and skill area with pump track, as well as a baby bike park for kids between the ages of three and six. There are also numerous e-bike routes on Alpe Cimbra. You'll find rental stations for e-bikes in Lavarone and Folgaria. By the way: You can also bike on Alpe Cimbra in winter. Defy the ice and snow on fat bikes, which are available to rent.
The fine powder snow flurries up around you. You soar down the wide slope, swing by swing. You're overcome by an indescribable feeling of freedom. The Alpe Cimbra ski area is undoubtedly one of the most beautiful in the Alps – not only thanks to its numerous descents with a wealth of difficulty levels, but also due to the glorious views all the way to the Austrian border. One ski pass is all you need to use the lifts and slopes of the merged Folgaria and Lavarone ski areas, where sport, nature, and history blend together. On the high plateau, you'll find many Habsburg fortifications, silent witnesses to the First World War, which will delight young and old alike. Families love whizzing around on the special children's slopes, which have been awarded the "Italian flag" by the Italian Paediatricians Association for their safety and quality. The steeper slopes, such as "Agonistica", "Salizzona", or "Avez del Prinzep" give passionate skiers and pros the chance to refine their technique. Thrill seekers can have a world of fun in the snow parks or on the boarder cross slopes. Modern, energy-efficient snow-making equipment offers guaranteed snow from the beginning of December and ensures environmentally friendly tourism.
In the cold months, Alpe Cimbra transforms into a unique landscape of ice and snow that will leave you open-mouthed. The peaks beckon you to enjoy magical adventures. Strap the skins to your touring skis and scale solitary summits. Immerse yourself in the meditative crunching of snow under your boots and discover new paths that lead you deeper into unspoilt nature. Glide with cross-country skis over the sprawling pastures and through silent forests or have fun with the whole family while tobogganing, tubing, or ice-skating on Lake Lavarone. What do you say to a horse-ride through this fairy-tale landscape? A night hike also promises a very special experience. The soft light of the moon and the millions of stars that twinkle in the night sky show the way to one of the idyllic mountain huts where you can sample the area's many culinary specialities.
Culture and nature on Alpe Cimbra.
Worth seeing.
On Alpe Cimbra, you can immerse yourself in the beauty of nature, in the intricacies of culture, and in the eventful history of the area. Numerous fortifications from the First World War are dotted across Alpe Cimbra and tell a cautionary tale. Some structures have been reclaimed by nature, while others remain intact to this day, including the Forte Belvedere Gschwent fortress, which is home to a multimedia museum. Today, a fantastic creature reigns over Alpe Cimbra – the largest wooden dragon in Europe, created by Venetian artist Marco Martalar. The dragon is part of the "Lavarone Green Land" themed trail. Guardia, the painted village, is also of great artistic worth. Impressive murals adorn the facades of every single house. Just a few minutes away from the little village, you'll find Hofentol waterfall, which transforms into a sculpture of ice and light in winter. Paolina Visintainer, who was born in Vigolo Vattaro and founded a religious order in Brazil, was proclaimed a saint in 2002. If you'd like to learn more about this fascinating woman, why not visit her birth house? Speaking of fascinating: The village of Lusérn, which is officially one of the "Borghi più belli d'Italia" (Italy's most beautiful villages), is fascinatingly lovely.
The cuisine of Alpe Cimbra.
Worth savouring.
The culinary specialities on Alpe Cimbra are as authentic and honest as the people who live there. Recipes have been passed down from generation to generation over hundreds of years. And that's lucky, as the culinary specialities served in the restaurants and mountain huts are incomparably delicious. You have to try the Tortel di patate (potato fritters), Polenta di patate (potato polenta), Tonco del Pontesel (meat stew), Carne salada (cured beef), or Strangolapreti (special dumplings with spinach). These simple but aromatically refined dishes are all based around the products of local agriculture. The respect for nature is immense. The locals reverently hand-process the natural treasures into delicacies like Speck ham, beer, Vézzena cheese, or pure mountain honey, which also has a museum dedicated to it here. Taste your way through the large selection of treats like chestnuts from Val di Centa, Vigolana pears, mountain potatoes, or goats cheese.