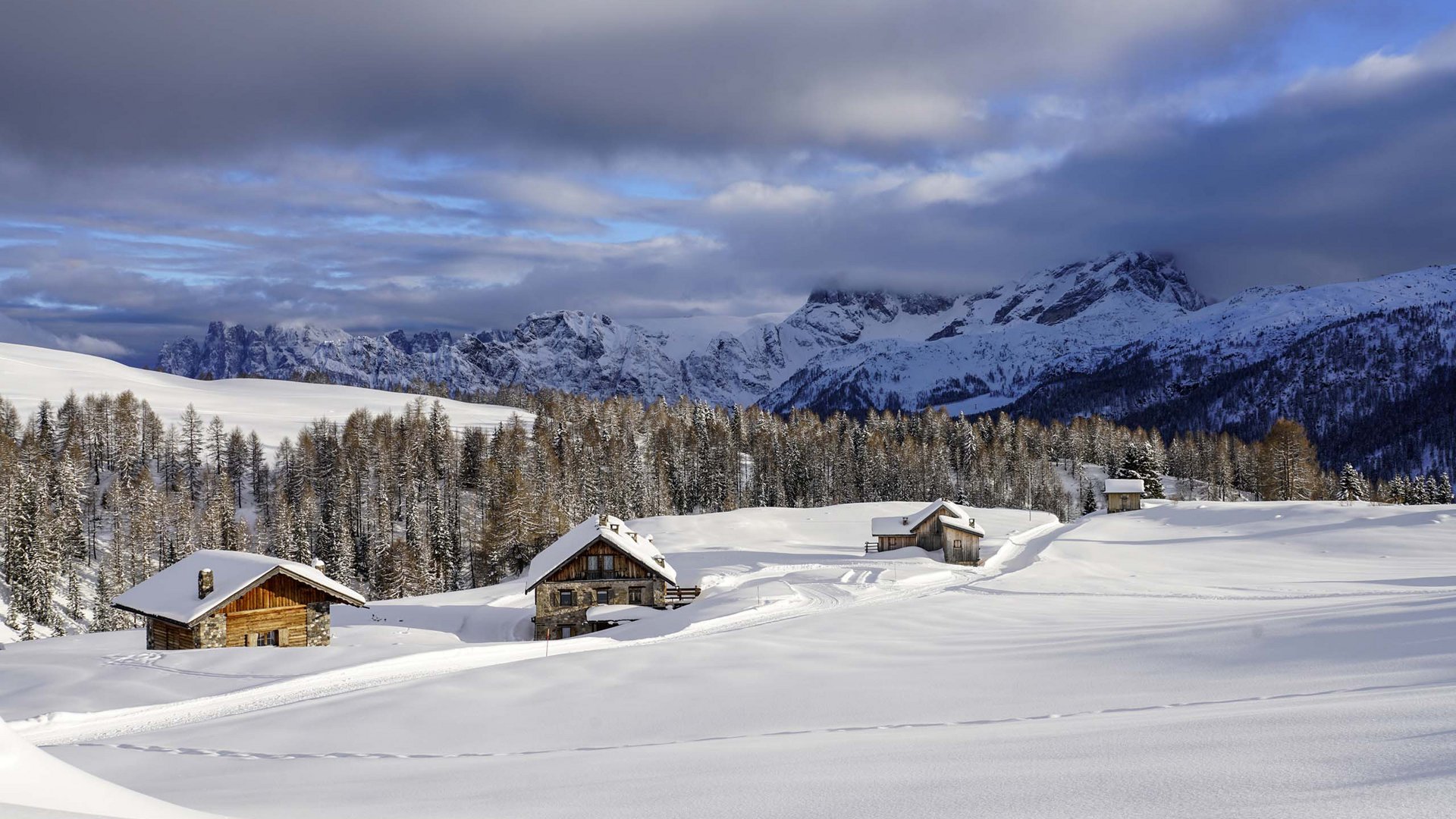 Moena: the fairy of the Dolomites
Italy
There it lies, enveloped in a magical gleam: the idyllic mountain village of Moena, also known as the fairy of the Dolomites. And it's easy to see why, as the scenery exudes fairy-tale charm. The stunning rock formations of the Dolomites are strung above the meadows, forests, and mountain farms like a pearl necklace.
Worthwhile.
A holiday in Moena.
Enrosadira – Alpenglow – is what the locals call the unique play of colours that transforms the mountain world around Moena into an enchanted landscape at twilight. Nature proudly conducts this show that sees the rugged rock faces of the Dolomites glow in all imaginable shades of yellow, orange, and red before the curtain of darkness falls. During these magical moments in the morning and evening, you can easily imagine you've been whisked away to the fairy realm. And the Pearl Moena lies peacefully right at the heart. Val di Fassa's enchanting main village nestles in a hollow on both shores of Avisio river. The inhabitants revere nature, which is why the mountain village has dedicated itself to high-quality, sustainable tourism for many years now. The numerous initiatives that Moena has embraced and the impressive mobility concept have not gone unnoticed, and the Pearl has received the prestigious Green Destinations Award. Thanks to its charming location at the heart of what might be the most beautiful mountains in the world, it boasts an infinite variety of activity options in both summer and winter. Find magical energy. Discover Moena.
Carefree.
Your journey to Moena.
Kilometre by kilometre, you glide away from everyday life. Soul-felt peace fills you as you watch wonder-rich landscapes passing you by. Not much longer, and then you'll be there – in enchanting Moena.
From the north, take the train to Bolzano. From there, take the bus to Vigo di Fassa (www.suedtirolmobil.info/en). The Trento – Penia bus line will then take you from Vigo di Fassa to Moena. If requested through your host, there is the possibility to organise a pick-up from Vigo di Fassa or Bolzano.
From the south, take the train to Trento. From there, the Trento – Auer – Cavalese and Cavalese – Penia bus lines will take you to Moena. For further information about the bus, visit www.ttesercizio.it/en.
In July and August, as well as from December to March, high-speed trains run from Rome, Florence, Bologna, and Verona directly to Auer on Saturdays and Sundays. From there, the connecting bus will carry you to Moena. You can buy the ticket for this train and bus journey online and at all Trenitalia points of sale.
The nearest Mein-Fernbus/Flixbus stop is located in Bolzano. From there, take the bus to Vigo di Fassa (https://www.suedtirolmobil.info/en). The Trento – Penia bus line will then take you from Vigo di Fassa to Moena. If requested through your host, there is the possibility to organise a pick-up from Vigo di Fassa or Bolzano.
During the season, buses also run directly between Milan, Bergamo, Brescia, Venice, Treviso, Genoa, Pisa, Parma, and Mantua.
Moena has exceptional links to the public transport network. It is served by public buses no. 101 (Canazei – Moena – Cavalese – Trento) and no. 123 (Moena – San Pellegrino pass – Falcade).
Worth knowing.
A holiday without your car in Moena.
Who needs a car on holiday when there are so many eco-mobile ways to get around? Moena awaits you with a wide range of mobility options.
If requested through your host, a pick-up service will bring you directly to your accommodation from the nearest bus stop, or even from Vigo di Fassa or Bolzano.
The free Val di Fassa Card lets you use public transport free of charge in summer and enjoy various other advantages.
The panorama pass, which is available to buy, includes use of all mountain lifts in Val di Fassa and public transport. You can also purchase individual tickets for the mountain lifts online.
The popular, electronically operated tourist train brings you from the lively centre to the surrounding areas of Moena in summer.
The traffic-calmed centre of Moena (both main squares are car-free) invites you to stroll, shop, and savour.
Day trippers can park in Navalge car park and reach the centre on foot in just a few minutes.
The Bikeexpress Fassa – Fiemme, brings you comfortably back to your starting point after your bike tour, which leads you from Alba di Canazei to Molina di Fiemme.
A close-knit network of public buses links all areas of Moena with the region's tourist destinations.
In summer, several buses run between Moena and San Pellegrino pass.
An extensive ski bus network lets passionate winter sports fans enjoy a car- and stress-free holiday.
In winter, you can relax during romantic horse-drawn carriage rides on San Pellegrino pass.
At the rental stations in the village, you can rent e-bikes, road bikes, mountain bikes, and fat bikes for adults and children. Charging stations for e-bikes are located at various strategic points around the region.
You'll find all the sports equipment you and your family might need for fantastic summer and winter activities at various rental stations in the village.
Worth booking. Accommodation in Moena.
Collect unforgettable memories. Discover Moena and its charming accommodation options that treat you to a unique holiday.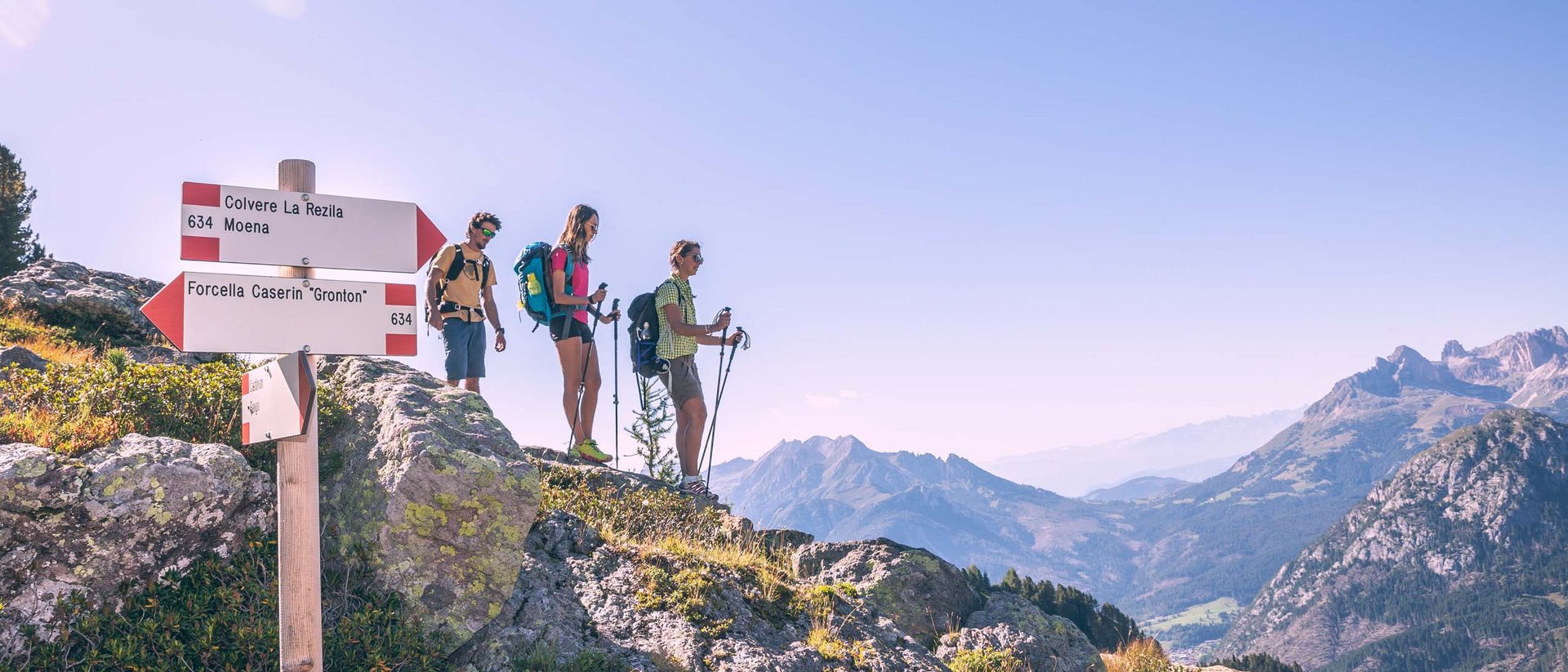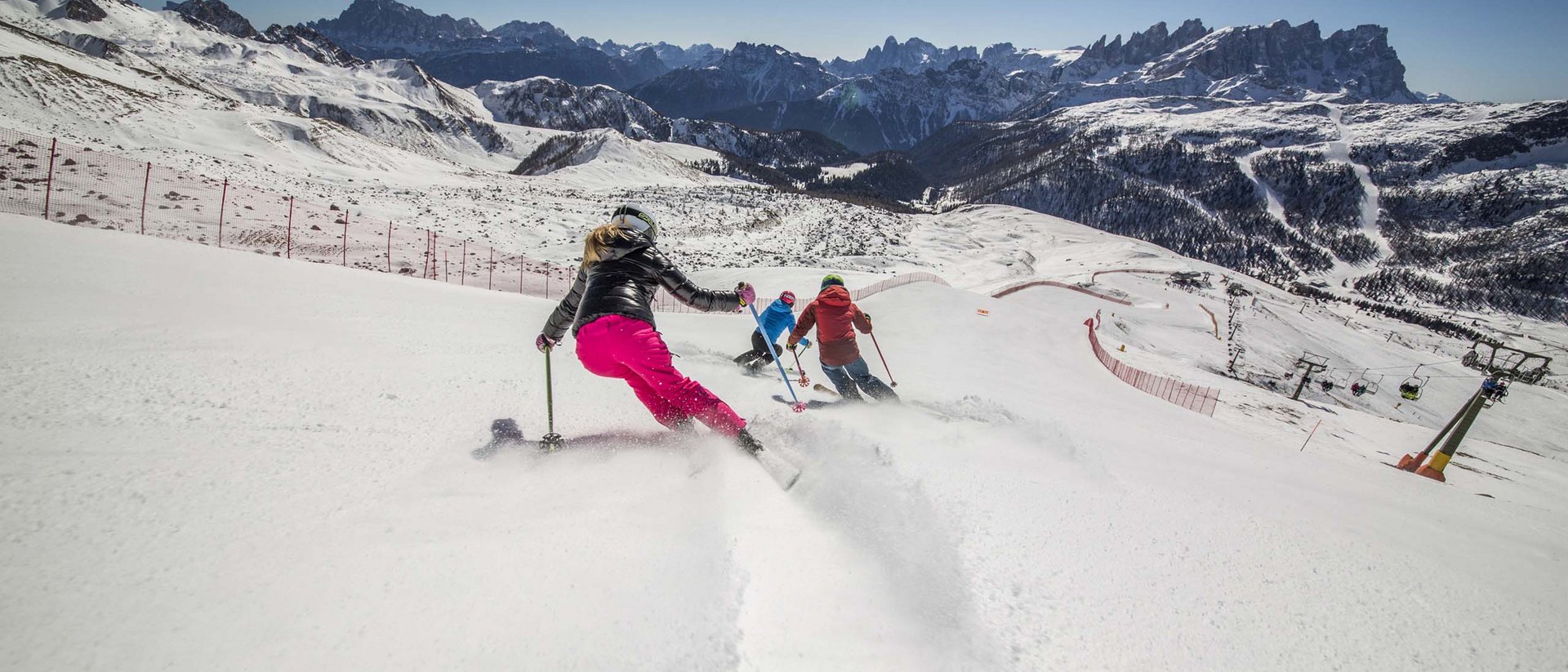 Worth experiencing. Moena's magical landscape.
It hangs in the air. That enchanting feeling of freedom when you glimpse the fairy-tale landscape. A burst of energy runs through your body and kindles your desire to explore this mountain world full of immeasurable, unfamiliar treasures. This magical world called Moena, the fairy of the Dolomites.
Away you wander. Without your car, with no time pressure, but with a clear destination in sight: the enchanting world of the Dolomites. The numerous well-signed routes of various difficulty levels, barrier-free nature trails, and themed paths guide you into the heart of unspoilt nature, to picturesque pastures, and rustic mountain huts. From Moena, ramble through peaceful forests and idyllic valleys up to solitary heights. Or glide with the mountain lift up to lovely Alpe Lusia pasture and into the heart of Paneveggio Nature Park, the starting point for a whole host of walks, such as to Malga Bocche hut, the Lusia lakes, Mt Cima Bocche, or Mt Sas da Mesodì. Always in sight: the Pale di San Martino and the Lagorai mountain range. Many discoveries await you on the nature trail and animal path, too. You can also walk legendary trails on San Pellegrino pass. They'll lead you to fairy-tale lakes, awe-worthy via ferratas, and solitary mountain peaks. If you're fascinated by history, follow the "Percorso della Grande Guerra", which guides you to silent witnesses of the First World War.
Biking in Moena has a magical energy, as you'll discover new natural treasures around every bend. All around the picturesque village stretches a varied tour network for mountain bikers and road bikers that takes you beyond limits and borders. The tours lead you to Alpe Lusia pasture or Rifugio Fuciade hut, past sleepy hamlets like Sorte or Medil, to idyllic Lake Carezza/Karersee in South Tyrol, or up to San Pellegrino pass, where technically challenging flow trails await. Thanks to its multi-faceted tours with a wide range of difficulty levels, Moena is a real paradise for mountain bikers and was selected as the venue for "Val di Fassa Bike", Italy's largest bike marathon. If you're happier down in the valley, we recommend the Fassa and Fiemme Dolomites cycle path, which connects Val di Fassa with neighbouring Val di Fiemme. The Bikeexpress Fassa – Fiemme, brings you comfortably back to your starting point after your bike tour.
In winter, the landscape around Moena transforms into a magical world of ice and snow that's in a class of its own. Here, amongst the craggy, snow-blanketed peaks of the Dolomites, you'll experience the freedom found on skis. Two ski areas, Alpe Lusia and San Pellegrino, with a total of 100 kilometres of slopes, 23 ultra-modern lifts, simple slopes for families, and black runs for seasoned skiers, as well as a snow park all await you during your winter holiday in Moena. The ski bus brings you directly to the lifts. If you're looking for peace and quiet, glide along on cross-country skis from San Pellegrino pass on the three trails of different lengths through winter-silent forests and past snow-blanketed huts or discover the natural treasures on the trails of the Marcialonga. Snowshoe walks by sunshine or moonlight, rewarding ski tours to the most awe-worthy peaks of the Dolomites, or romantic horse-drawn sleigh rides perfectly round off your activity options.
The magical world of Moena.
Worth seeing.
Elegant, lovingly maintained houses line the square of Moena, where village life unfolds. Cafés, restaurants, and shops with local products invite you to stroll and browse. The electric tourist train stops. It's time to climb aboard. It unhurriedly rolls from the centre to the surrounding rural areas. There are numerous cultural treasures of all shapes and sizes waiting to be discovered around Moena. The Museo Ladino di Fassa, for example, a real treasure trove of Ladin culture, which stands out thanks to its own language and eventful history. The modern museum tells this history via various exhibits and inspiring films. Next to the main building, you can visit a Venetian-style sawmill, a mill, and a cheese dairy. The permanent exhibition "La Gran Vera" in Teatro Navalge in the centre of Moena is dedicated to what might be the darkest chapter of its history, the First World War, which unfolded here.
Moena's enchanting cuisine.
Worth savouring.
In Moena, people live and breathe Ladin tradition. That's evident in the unique handicraft shops and typical markets as well as in the wine and culinary events such as "Dinner with the fairy – A tavola con la fata delle Dolomiti" in winter or "Flavours of autumn – Sapori d'autunno" in September, where local foods are the stars of the show – like Puzzone cheese, an original product with DOP protected designation of origin. The people are proud of their culture and dishes, which have been passed down from generation to generation and have even found their way into upscale Michelin-star cuisine. They're conjured up using ingredients provided by nature. Strangolapreti (little spinach dumplings), ciajonciè (large, filled ravioli), or fortaie (spiral-shaped pastries) – the dishes served here in Moena are as delicious as their names are fantastic.