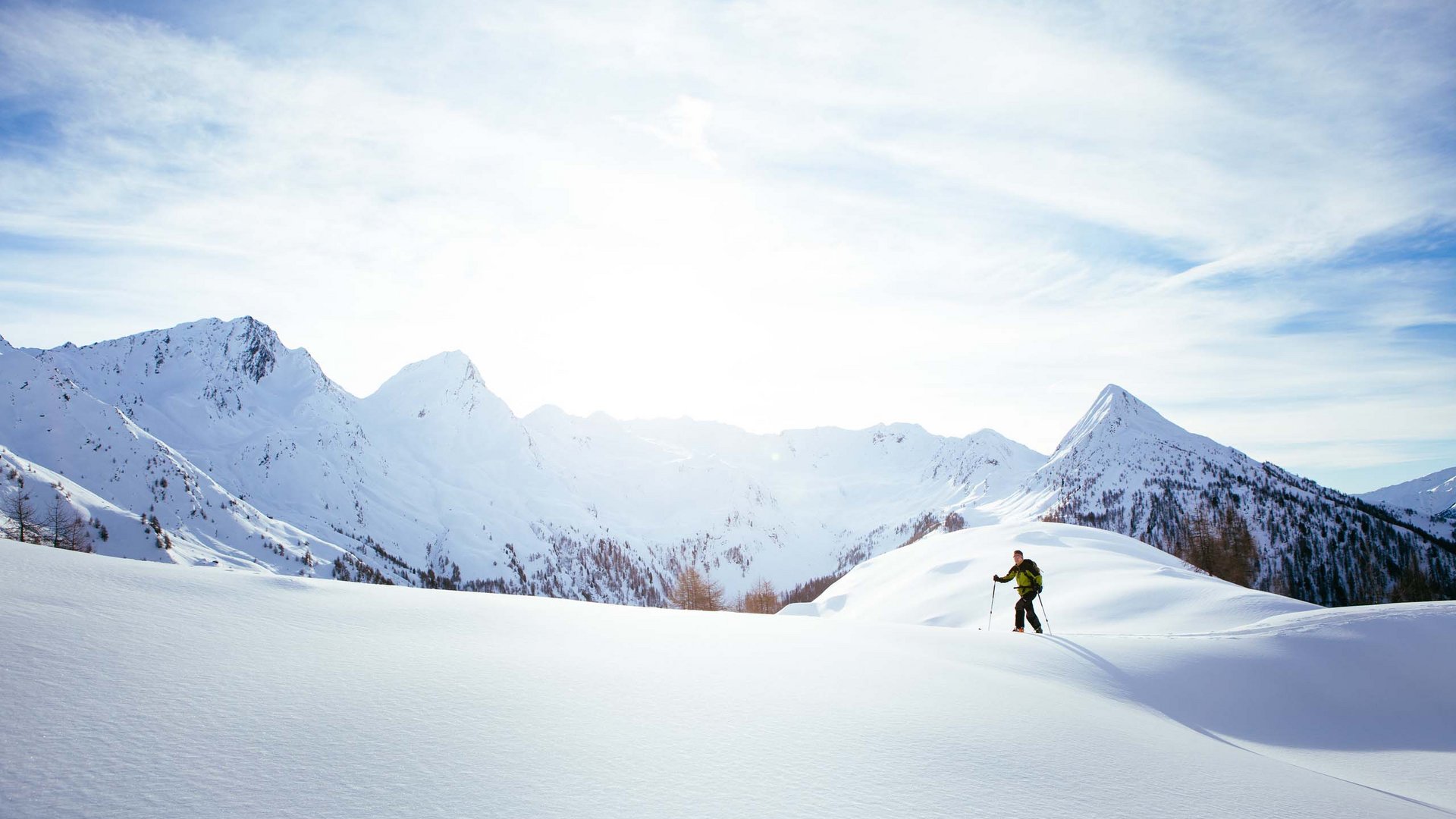 Moos im Passeiertal – a soul-freeing hideaway
Italy
The ancient mountain farmhouses perch like eagles' nests on the steep, unspoilt mountain slopes that reach high into the sky and create the setting for one of the most idyllic escapes in South Tyrol: Moos im Passeiertal. Peace unfurls. Over the valley. And in your soul.
Worthwhile.
Holidays in Moos im Passeiertal.
You look reverently upwards at the awe-worthy mountain giants that gently embrace the valley. Passirio/Passer river meanders its way through the narrow valley, which has a special dramatic flair. Nestled amidst this natural setting lies Moos im Passeiertal with its pretty villages of Moos, Platt, Stuls, Rabenstein, and the traffic-calmed mountain village of Pfelders. The tranquillity is so revitalising here in this unique area, where the high-Alpine landscape shows its full splendour and where people and nature have always lived harmoniously side by side. An incredible feeling of security and inner peace falls over you. Living life at your own pace and surrendering to the magic of the moment is so easy in Moos im Passeiertal. And that's partly thanks to the unique mobility concept that shows you the way to freedom. Open yourself up to adventure, as there's so much to discover in this solitary mountain world in summer and winter. Find soul-soothing peace. Discover Moos im Passeiertal.
Carefree.
Your journey to Moos im Passeiertal.
The Mediterranean landscape dotted with palm trees and lovingly tended vineyards gives way to unspoilt high-Alpine scenery. Your journey to Moos im Passeiertal will leave you with lasting impressions.
Bus no. 240 runs regularly between Meran train station and Moos in Passeier. For further information, visit www.suedtirolmobil.info. If you arrive in South Tyrol on trains run by DB or ÖBB, the South Tyrol connecting ticket lets you use public transport to reach your accommodation on your arrival day or return to the train station on your departure day.
The Meraner Land Express brings you from Munich to Val Passiria/Passeiertal every Wednesday and Saturday from March to November as well as at Christmas. You can book the journey through the Val Passiria/Passeiertal tourist board.
The Flixbus runs from various European cities to Meran via Munich and Innsbruck every day. From the Flixbus stop, you can reach Val Passiria/Passeiertal with Südtirol Transfer.
In summer, you can take the Südtirol-Express from Switzerland to Val Passiria/Passeiertal on Saturdays.
We only recommend travelling by plane for long distances. Airport transfers can be organised upon request.
The shared transfer Südtirol Transfer brings you from Bolzano and Meran train stations and the long-distance bus stops in Bolzano and Meran directly to your holiday accommodation and back again. Information and booking: www.suedtiroltransfer.com/en
An individual shuttle service or airport transfer can also be organised via the booking platform www.bookyourshuttle.it.
Most accommodation providers offer a transfer from the train station/bus stop. Please ask your host at the time of booking.
The Mobilcard lets you use all public transport within South Tyrol, including regional and regional-express trains to Trento as well as the Swiss PostBus between Mals and Müstair, as often as you wish.
Worth knowing.
A holiday without your car in Val Passiria/Passeiertal.
A holiday without your car means pure freedom. In Moos im Passeiertal, you can savour that feeling of boundless freedom – thanks to an extensive mobility concept.
From Meran train station, you can get to Moos im Passeiertal quickly and easily with the Südtirol Transfer connecting shuttle. Upon request, your host will be happy to arrange for you to be picked up from the train station in Meran.
Buying the Südtirol Mobilcard lets you use all public transport throughout South Tyrol. The Südtirolmobil app offers you practical information about the use of public transport in South Tyrol.
The public buses in Val Passiria/Passeiertal as well as in Meran and Environs ensure seamless mobility. From Meran, you can get to Moos im Passeiertal on bus line 240.
Buying the Meran and Environs Buscard lets you use all public transport in the Meran area for seven days.
The hiking bus to Ulfas transports you to the starting point of numerous hikes every Tuesday and Thursday. You can board at all bus stops between St. Leonhard and Ulfas.
In summer, the Timmelsbus – a cross-border bus line – runs between Alta Val Passiria/Hinterpasseier and Obergurgl in neighbouring Ötztal in Austria, and a hiking bus runs to Rafein in Stuls on Wednesdays.
Taxi companies are also available for specific transport wishes. For further information, visit https://www.merano-suedtirol.it/de/passeiertal/info-service/informationen/taxi-shuttleservice.html.
Do you want to charge your car? One of the most high-performance charging stations in the Alps has been installed in Moos village centre. You'll also find other charging stations in Pfelders, Platt, Stuls, and Rabenstein.
E-bikes are available to rent from Hotel Pfeldererhof and Hotel Rosmarie subject to advanced reservation.
The "Grünboden Express" cable car carries you up to 2,001 metres above sea level for your very own mountain adventures in summer and winter.
Worth booking. Accommodation in Moos im Passeiertal.
Simply switch off and discover the magic of slowing down – that's so easy in Moos im Passeiertal. Discover all the accommodation and book your holiday without your car in Italy.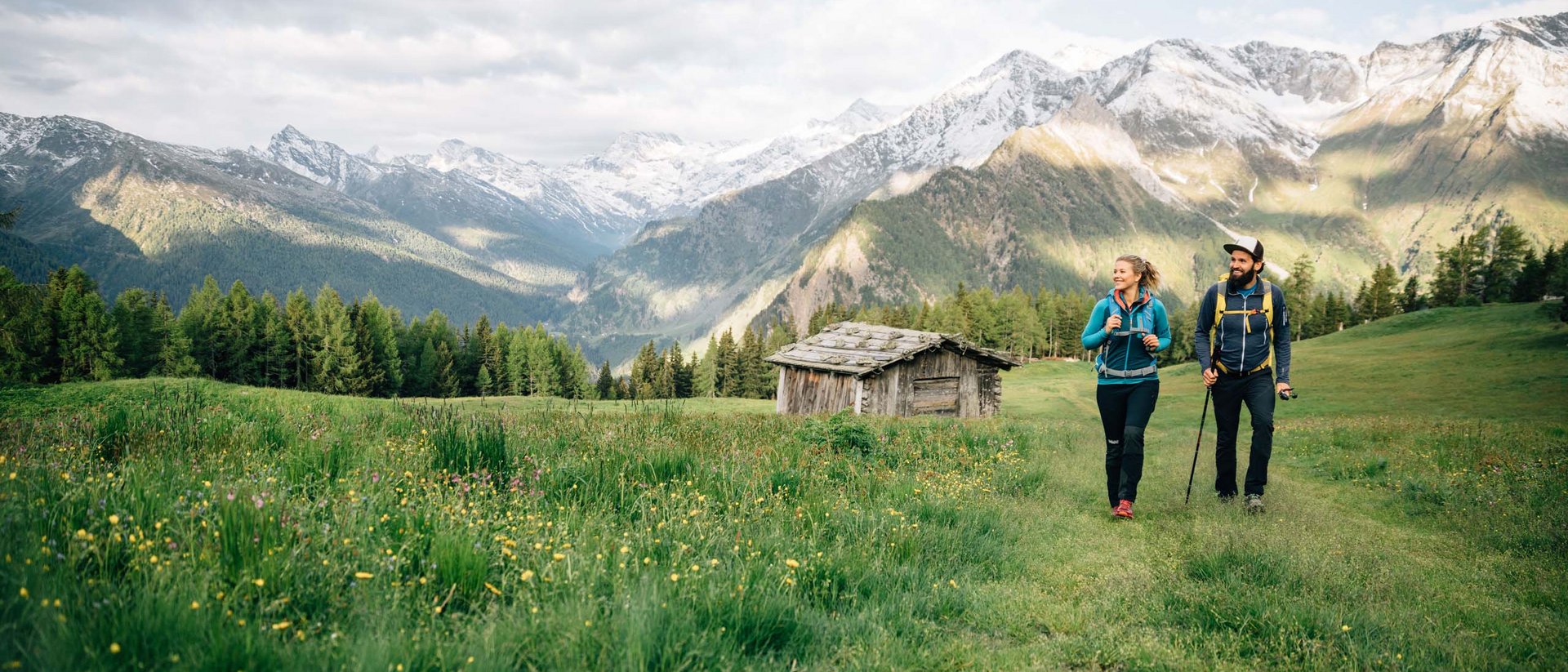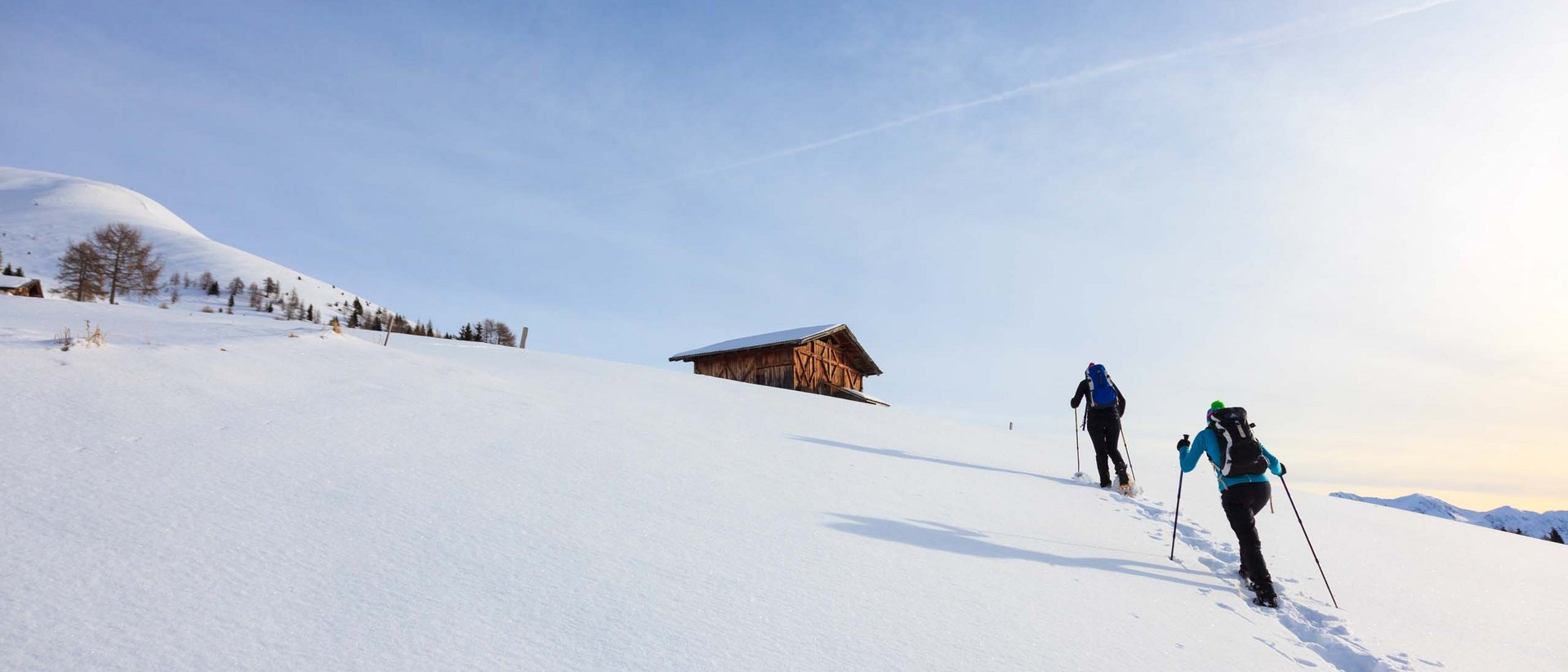 Worth experiencing. The natural beauty of Moos im Passeiertal.
High mountains. Deep gorges. You'll feel it wherever you go: The unbridled power of nature that shaped this solitary mountain landscape over the millennia. Moos im Passeiertal is an energy hotspot that's home to natural treasures of all shapes and sizes just waiting to reveal themselves to you.
There's a peaceful, secluded air in Val Passiria/Passeiertal, where the Stubai, Ötztal, and Val Sarentino/Sarntal Alps draw closer and closer together and the Gruppo di Tessa/Texelgruppe shines in all its splendour. Locals and tourists alike are enticed upwards into the mountains. A close-knit network of hiking trails and mountain tours extends out in Alta Val Passiria/Hinteres Passeiertal and calls you to embark on unforgettable adventures. The paths lead you to idyllic mountain lakes like Lake Seeber See, Lake Erensee, or Lake Nero/Schwarzsee, to countless mountain huts and ancient mountain farms, high up to majestic peaks like Mt Cima Clava/Kolbenspitze or Mt Altissima/Hohe Wilde, and down deep into Passirio/Passer gorge, which was formed over the course of millennia by the tempestuous melt water and the rocks it carried along with it, one of the most spectacular gorges in South Tyrol. On the exciting themed trails and guided hikes in the Gruppo di Tessa/Texelgruppe Nature Park, you'll learn all kinds of fascinating details about flora and fauna, place and people. Thanks to its unique location, Alta Val Passiria/Hinteres Passeiertal is traversed by well-known long-distance hiking trails, with the Meran high mountain trail, the E5 European long-distance path, the Tyrolean high mountain trail, and the Romedius pilgrimage trail connecting north to south.
Overcome gravity. Slowly feel your way upwards on the rock. Pause and seek new possibilities. Climbing is like active meditation. Incredibly freeing. In Moos im Passeiertal, you'll discover limitless freedom, as there are climbing options galore. As well as the climbing garden in Stuls with its 65 different routes, you can also put your skills to the test in the Bergkristall climbing garden in Pfelders, Zoll climbing garden between St. Leonhard and Moos in Passeier, and in the climbing garden in Moos. The "Stuller waterfall" via ferrata, right next to the third-highest waterfall in Europe (342 metres), is spectacular in every respect.
You might not be able to buy happiness, but you can certainly cycle your way to it. Myriad road bike routes take you past the lush-green meadows in the valley, along the bank of the Passirio/Passer river, up Passo Giovo/Jaufenpass, and to Passo Rombo/Timmelsjoch, which marks the border to Austria. Scaling Passo Rombo/Timmelsjoch by bike is without a doubt one of the most extraordinary experiences you can collect on holiday. Countless serpentine bends snake their way up the mountain for 34 kilometres until reaching the pass at 2,509 metres above sea level. The view of the surrounding mountain world is just as awe-worthy as the five gigantic sculptures by renowned South Tyrolean architect Werner Tscholl that line the route. The extraordinary artworks tell the story of the pioneers of road building, the smuggling tradition, Europe's once-highest mine, and the miraculous power of stone pine.
Summer holidays in Moos im Passeiertal mean infinite natural experiences. Take a seat on the banks of the softly splashing river or the shore of the deep-blue mountain lake, soak up the soothing peace, and cast your line into the water. Dive into a fascinating world of moss-blanketed rocks and smooth stone walls, adventurous cascades, and calm stream pools during a guided canyoning experience. Soar over Passirio/Passer gorge while tarzaning or discover the treasures of Val Passiria/Passeiertal from horseback. If you feel the need for speed, rent a mountain cart from the mountain station of Grünboden lift in Pfelders and enjoy high-velocity fun.
The sun shines gently down on the wide, snow-blanketed mountain slopes. The white, fairy-tale winter landscape stands out against the bright-blue sky as the locals companionably make their way to the ski slopes. In traffic-calmed Pfelders, a small yet rich ski area awaits you with guaranteed snow and a wide variety of runs. Here, families with children will have the time of their lives while ski pros prepare for the upcoming world-cup races on the steeper slopes. Soul-enriching bliss also awaits you away from the groomed slopes while ski touring. Moos im Passeiertal is the starting point for numerous ski tours that take you to the highest heights, embraced by the peace of the mountains. With steps in time with the rhythm of nature, head up Mt Capro/Botzer or Banker Joch col, to Mt Croda della Cintola/Gürtelwand or Mt Hofmannspitze, to Mt Clava/Kolbenspitz or Mt Cima dell'Alpe/Alpenspitze. Once you've reached the top and take in the view of the surrounding mountains, an indescribable sense of joy will make its home in your heart.
When millions of snowflakes fall from the sky, Alta Val Passiria/Hinteres Passeiertal is blanketed in a deep, soothing peace. Winter bliss hangs in the air. Cocooned in a thick winter coat and with warm, sturdy shoes on your feet, you plod off. With your face to the sun, you move deeper into a winter wonderland that couldn't be more beautiful. All around Moos im Passeiertal, you'll find numerous wildly romantic winter hikes, for example in unspoilt Valle di Lazins/Lazinsertal, to Egger Grub Alm hut, or on the sun trail. Cross-country skiing offers a welcome contrast to the hectic pace of everyday life. Glide unhurriedly over the perfectly groomed trails in this deeply snow-blanketed landscape. Fun for the whole family awaits you while tobogganing, in the Stuls ski and fun park, or while ice-skating. A special winter highlight: climbing on the dizzyingly high ice towers in Rabenstein.
Museums in Moos im Passeiertal.
Worth seeing.
Val Passiria/Passeiertal is rich in stories and history. And that's no surprise, as it has always been a link between north and south. Proud of their roots, the locals still uphold old customs and traditions and keep their fascinating history alive, which you can experience in various museums. In Moos im Passeiertal, you'll find the Bunker Mooseum, which is located in the shell of a bunker from the 1940s. Here, you can learn all about the prehistoric times, settlement history, and geology of Alta Val Passiria/Hinterpasseier. In the neighbouring enclosure, you can admire the King of the Alps, the ibex. If you'd like to learn more about hydropower and the generation of electricity, we recommend a visit to Stiëber Mooseum. The South Tyrol Museum of Mining at Monteneve/Schneeberg, where you can enjoy exciting adventures below and above ground, is also worth visiting. Monteneve/Schneeberg mine, which in its heyday in the 15th century employed up to 1,000 miners, is one of the highest and once most important mines in Europe. The pioneers of the Passo Rombo/Timmelsjoch road, on the other hand, are celebrated at the pass museum on Passo Rombo/Timmelsjoch, which stands in both Italian South Tyrol and Austrian Tyrol. The moulin or glacial mill near Platt, which was carved by glacier water, is a reminder of the power of nature.