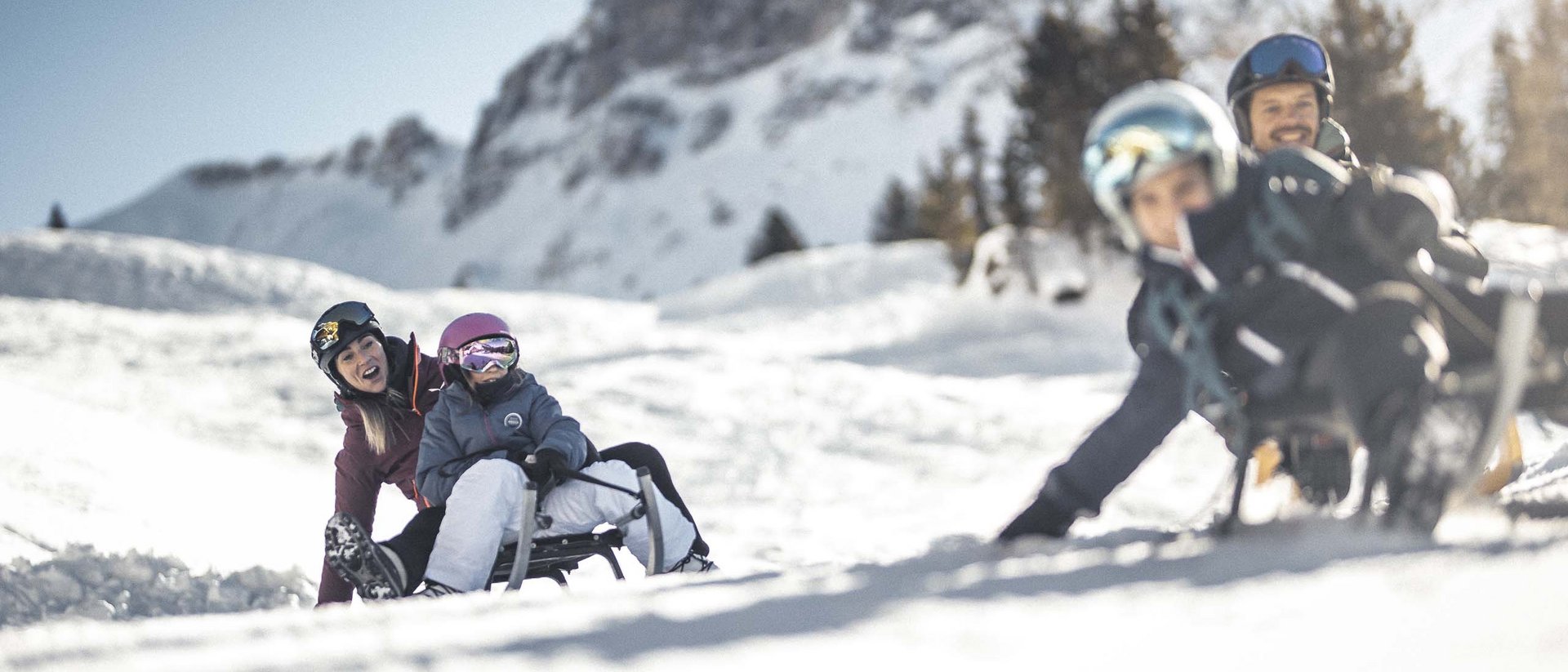 Worth experiencing. Tobogganing in Villnöss.
Discover the Geisleralm toboggan run.
When the first snowflakes drift down from the sky, the mountains beckon with tobogganing fun. Let us take you to Geisleralm.
The bright blue sky above you. The crisp snow beneath you. The wonder-rich peaks of the Odle/Geisler group before you, silent witnesses to the history of the Earth. A symbol of the unbridled power of nature. Amidst this awe-worthy mountain world lies Geisleralm, a beloved excursion destination for winter hikers and tobogganers. This winter hike begins at the car park by the "Waldschenke" in Ranui St. Magdalena in Villnöss. From there, the leisurely, perfectly prepared winter hiking trail leads you gently upwards through the still, winter-bound forest. Every so often, you catch glimpses of the majestic rock formations of the Odle/Geisler group between the snowy treetops. After around two hours, you reach Geisleralm.
This rustic mountain hut located at 1,996 metres above sea level invites you to take a break and enjoy a bite to eat. Take a seat in the cosy "Stube" parlour or on the enchanting panoramic terrace and let the hutkeepers treat you to culinary delights. Whether it's mouth-watering South Tyrolean Knödel dumplings, a warming soup, or fluffy Kaiserschmarrn chopped pancakes with cranberry jam, you'll find numerous traditional dishes on the menu.
After your energy boost, hop onto your toboggan, which you can rent at Geisleralm. Now it's time to soar back down into the valley. The 5.8-kilometre-long run takes you back to the car park in Ranui, where a picturesque meadow is home to the idyllic Ranui church, a photo-worthy attraction that has even found its way onto postage stamps.
Down in the valley, you can look forward to another treasure: the Puez-Odle/Puez-Geisler nature park house in St. Magdalena, which is open in winter from the end of December to the end of March and lets you dive into the magical world of the Dolomites. You'll be captivated by the exhibition areas "the Dolomites hands-on", "Nature's cabinet of wonders", and Conquering the mountains".
Discover the Dolomites in winter. Find magical peace.